North Students Win Awards for Art
A student leans into the chair, eyes focusing on the details of a drawing they're creating. They are sitting through the morning announcements just like every other St. Charles North student in the morning when they hear their name called out. That announcement was to make known the awards and honorable mentions for the 10 students of North who were in the Dukane Art Show, which is a national event that features student art from Batavia, Geneva, Glenbard North, Lake Park, St. Charles East, St. Charles North, Wheaton North and Wheaton Warrenville South High Schools. Students are chosen from the various works that were submitted into different categories that ranged from drawings, digital art, and films to be presented in the show.
"I made this piece as an assignment for my AP Art class. We were asked to come up with this piece on our own based on three things: one, we had to have a challenge, and two, we had to have a design synectic," said junior Annabelle Handjojo, who got an honorable mention for Digital Illustration. "All of us were very confused as to what that was, but she gave us a list of very interesting stuff in art like fragmentation, repetition, and all sorts of stuff. The third was that it had to connect three ideas, and I chose the one regarding identity, so that's my self-portrait." 
Senior Joseph Pastrana got an honorable mention for Mixed Media, Handjojo and senior Brynn Mitchell got honorable mentions for Digital Illustration, senior Shailen Birkett got an honorable mention for Sculpture, sophomore Simone Wright won a 3rd place medal for Digital Illustration, sophomore Iris Fiacchino won a 3rd place medal for Painting, junior Hannah Srdanovich won a 3rd place medal in Drawing, sophomore Lucia Pastrana won a 2nd place medal in Time Arts, senior Henry Piper won a 2nd place medal in Graphic Design and senior Sophie Reck won a 1st place medal in Graphic Design. 
Many of the award winners felt honored with their achievement of winning the award, and they are using their wins as fuel to push themselves to work harder in their future pieces.
"Winning an award always brings a feeling of pride. I love being able to get recognition from outside sources, it pushes me to want to keep creating what I love. It's nice to see that other people value the same material as me too," said Wright.
Many of the students' pieces were done either by themselves or with the help of family and teachers. Lucia Pastrana, a first-time participant in the Dukane art show, felt happy along with the rest of her family for her to win an award.
"My mom and my sister helped, and I guess in a way my teacher [Mrs. Shepherd] did.  First, she was patient with me and gave me more time with it. And also taught me how to use the app to edit it on, of course," said Lucia Pastrana.
The time process these art students took to create their works were long hours that stretched into a couple of days. A lot of the artists took many steps to reach their finished products using apps like Procreate, media tests, and other edits to sculpt their artwork.
"It's 25 hours and 21 minutes. That doesn't include the time I spent planning or the time I spent on the other app. I used two apps for this, the other one was because the brushes and tools there are so realistic and like the paintbrush tool there… I can smear it really nicely…Those hours are unaccounted, so I'm assuming it may be 30 hours a little less," Handjojo said.
All students' work submitted in the art show was sent in by the teachers of the art department like Stephanie Dodd and Laurie Wennemar. Lucia Pastrana made a film on psychosis, Hanjojo's created a fragmented digital self-portrait and Joseph Pastrana's drew original characters based on Rick and Morty.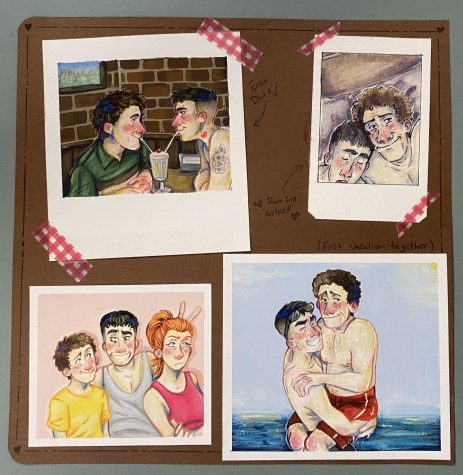 "I was asked to submit my work by a teacher in the North art department. I figured, why not? It'll be fun to try regardless of if I win anything or not. I'm very glad I took the opportunity," said Wright.
Many of the students who won the awards stated that they began creating art when they were young, and that spark of creativity grew into a passion for the works they create now.
"I've been into art ever since I was born. It was just my only source of a kind of I'd say escapism. And it was the one thing I was passionate about that just stuck with me my entire life. It was just something I did and then it became something that became a lot bigger in my life," Joseph Pastrana said.