The Tiny Kitchen Opens in Downtown St. Charles
The Tiny Kitchen, a bakery currently located in downtown St. Charles, originally started in the home of Megan Merrithey over 15 years ago. However, Merrithey eventually decided to pursue her dream and move her small business into its own space after previously being a teacher for District 303. By raising over $18,000 through a Kickstarter from June 8 to Aug. 7, her bakery was able to expand past the home during the late summer/early fall of 2022. The Tiny Kitchen now offers a variety of in-store sweets, custom orders, birthday parties and even classes to learn cookie, cupcake and cake decorating.
Considering how The Tiny Kitchen is a small business, there is a lot of variability around when it is open and what is being sold when. Luckily, information regarding any changes to the usual schedule and products can be found through The Tiny Kitchen's Instagram, Facebook and other socials. That's how I easily found out when to come in.
Walking in and up to the counter, the display of confections to choose from quickly catches the eye, particularly the arrangement of several tiered cakes. Because they can be bought by the slice, each entire cake is set out to view. And they all look visually pleasing, from the intricate frosting to the clean cuts. But along with the wide variety of flavors to pick from, I noticed that there are even a few gluten free and vegan options of sweets available, which are labeled as such. Chances are that when someone walks in, they will find something they can enjoy.
The cake slices themselves were quite structurally sound as they had enough moisture and density to stand up by themselves. It actually came as a bit of a pleasant surprise considering they were still fluffy while the frosting remained lightweight and smooth. The delicate balance between being too crumbly versus too condensed was successfully done, further being heightened by the consistent texture of both the confection and frosting.
As well as the designs, the flavors of cake all remain authentic and recognizable, from something as simple as chocolate or vanilla, to even churro and cookies and cream. Each one tasted as expected and was plenty sweet to my liking. The cupcakes taste pretty much the same as the cake slices except for, of course, they are smaller in size. So if a cake is too big for someone and they need a smaller version, cupcakes are the way to go.
Now the chocolate chip cookies actually caught me off guard. They are very thick and large but somehow not cakey. They still have a chew to them which, to people like me who much prefer chewy chocolate chip cookies, was very exciting. They still had a light crispness that allowed pieces to be easily broken off and I was overall very pleased with the texture and taste. They fit the classic image of what a chocolate chip cookie should be.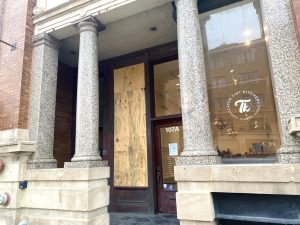 So when it comes down to it, I'd highly recommend anybody who is curious to go and check out The Tiny Kitchen. Not only was the wide range of baked goods both delicious and beautiful, but the owner was very friendly and made conversation when ordering. The Tiny Kitchen has a lot to offer and it is very important to support local businesses whenever possible.
The Tiny Kitchen can be found on Instagram and Facebook at @thetinykitchenstc. The bakery is located at 107 W Main Street, St. Charles, IL.