North Theater Program Prepares for Winter Play "Puffs," Running Feb. 2 to Feb. 4
The St. Charles North theater program is performing "Puffs," a Harry Potter parody written by Matt Cox, from Thursday, Feb. 2 to Saturday, Feb. 4 at 7:30 p.m. in the auditorium. 
The show was created around J.K. Rowling's Harry Potter franchise and focuses on the students of the Hufflepuff house at the fictitious school of Hogwarts. It follows these Hufflepuff students throughout all seven years at Hogwarts, and it goes alongside the main storyline of the books.
"It's a spoof of the Harry Potter wizarding world. So, the same years that Harry goes to school. It follows the Hufflepuffs that also went with [Harry Potter]," said Lincoln Pixton, a freshman who stars alongside Jonah Zimmerman, Aubrey Risch and Ella Weasler as the leads of the play. 
Ryan Colton, director of the winter play, believes that this production will appeal to everyone: those who are fans of the books and movies and those who do not enjoy the story, because it pokes fun at the franchise.
"So any kind of [fan], and I think non-fans, will also enjoy the show because there's just a ton of humor to it. So I think it's… just a great night of fun," said Colton.
The cast has been preparing for the play since November after auditioning in late October. Rehearsals run every day from 2:30 to 4:35. 
"We've been working on it since November, so it'll be fun to finally, after months of work, be able to share it," said Pixton. 
Because of the magical setting, the show also demonstrates lots of different types of tech elements. Cory O'Rourke, junior and stage manager for this production, is responsible for technical aspects, like lights and sound.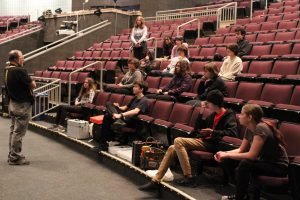 "There's a lot of special effects that we've never done before. So it's just a lot of learning for all of us," said O'Rourke. 
Despite the learning curve and having to adjust to new things, those involved in the play express excitement about seeing the production come together. 
"I definitely feel like it's like a crowd pleaser type of show. I feel like it's gonna be really fun to do it in front of an audience…the laughs always make the show more fun," said Zimmerman. 
The cast and crew hope to have a big turnout for the show and allow people to experience all the elements they've worked so hard to put together. 
"I feel like Harry Potter was such like a huge part of a lot of people's childhood, especially like that are in high school right now. It's kind of like our time," said Risch, "and supporting the arts is super important because a lot of people come out to sports games and stuff. So it'd be really cool to get like a big audience to come."
Tickets will be sold on the district website, the North website, or can be purchased at the door. Student tickets are $5 and adult tickets are $7.