North Boys Swim and Dive Team Commits to Rigorous Schedule
This winter at St. Charles North, the boys swim and dive team has been working extremely hard. They've been practicing, competing and enjoying some fun traditions that started more than twenty years ago. They're looking forward to the conference, sectional and state meets coming up.
"[The team] lift[s] Monday, Wednesday, Friday morning, and swim Monday through Friday afternoon," said boys swim and dive coach Rob Rooney. 
"[Swim practice] takes up a lot of my time, but I find it a great way to stay in shape. [The team] is like one big family," said Francesco Alongi, sophomore on the varsity team. 
The busy schedule didn't stop over winter break for the team. The team understands the rigorous commitment, involving sometimes practicing multiple times a day, for up to four hours a day. 
"That's when we're training our hardest," said Alongi. "It's the most hard and grueling workouts of our entire season."
"I definitely think [practice] helps the team a lot over winter break. We definitely get a lot better. It's all practicing. It bonds the team together, too, because we're all going through the same things," said Mac Mika, sophomore on the JV team. "Over winter break we do 100 100's, which takes a really long time."
The tradition of their winter break schedule has been present in the program for years.
  "It is called Stotan. It's a couple weeks of just all out training and getting after everything from lifting and swimming," said Rooney.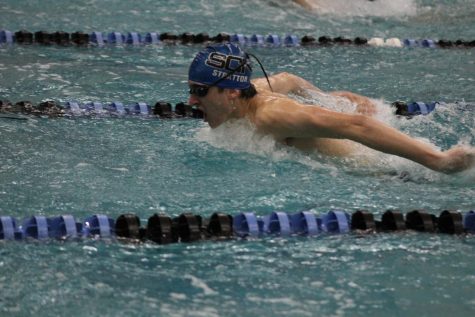 In addition to the busy winter break schedule, the boys swim and dive teams enjoy some traditions that have lasted many years at North.
"We have a great tradition over winter break which is the shield and the gorilla, Bibi. Basically, if you have a great practice and Rooney thinks that you had a great practice, he'll call you out and he'll basically say 'okay you're getting the shield.' The shield is like 22 or 23 years old, and everybody signs their name on it once they get it. It's a really cool tradition," said Alongi. "The gorilla is for two practices consecutively that are really good and it's kind of the same thing, except it's a massive gorilla, and you get to sign your name on the shirt."
Their coach also believes that their traditions are important.
"The shield and the gorilla have been here since the 2000s, so 22 years," said Rooney. "It's kind of a rite of passage time frame. Kind of like a mentality where we give out a shield or a gorilla based on how well they're practicing and the effort they're giving. [We see changes in] overall endurance, speed, size, strength, plus personal satisfaction that they've battled through training to get better. Really, it's just the mentality of the program and the expectations of the program to be the best we can be as a team and the outcomes at the end of the year with tapering and just the excitement that that brings to success."
Rooney is proud of the team, and he thinks that being involved in athletics at North is important.
"I think it's awesome to be involved in athletics. When you are a member of our swimming program and our diving program, you're part of a family that wants you to find ways to be better and ways to challenge yourself and find ways to succeed by challenging yourself. This last weekend, we had two great meets: the St. Charles North Invite and a Quad Meet. The atmosphere of the team right now is kids are very engaged and becoming an entire program and I'm very proud of them," said Rooney.
The swim team still has a lot to look forward to, and a lot coming up.
"I'm looking forward to sectionals, because I want to go fast, particularly in 100 breaststroke," said Alongi.
The team and their coaches have been enjoying the season so far, and they have some goals for the rest of the season.
"Get to the state meet, and work at it from that point. Conference is coming up," said Rooney.
 The team's next meet is the Dukane Conference meet, this Friday, Feb. 3 at St. Charles East from 5:30-7:30.