St. Charles North Varsity Boys Basketball Team secures win against the St. Charles East Saints From Across the River
Last Friday, Feb. 3, the North boys basketball team fought hard, bringing home a win against their rivals from across the river on the Saints' home court with a score of 69 to 62, and continue to work hard to prepare for future games and championships as they inch closer to playoffs. After two more home games this week, North's team moved to 6-21 for the season.
"We did a nice job of winning that battle, and they were just locked in from the start of the game to the end. I hadn't seen them this focused, and it was just an awesome atmosphere because it was packed and you feel like the whole community's there," said head boys basketball coach Tom Poulin. 
Though the crowd was big, the boys blocked it out in order to focus on winning. 
"We really haven't played in front of a crowd like that. You know, when East came here, we had a good crowd, a really, really big crowd, and it was a competitive basketball game. They beat us by three here, but then we went over there in their gym and kind of paid them back," said Poulin.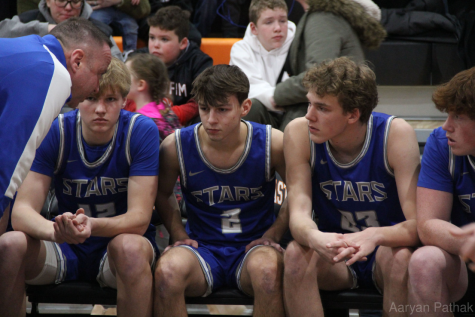 Juniors Parker Reinke, Jake Furtney, Daniel Conolly, and Luke Holtz were all players that were able to make a huge difference in the game and help to give the Stars their lead. 
"We did a good job of kind of keeping East from the things they like to do," said Poulin. 
On Monday Feb. 6, the boys played another game, this time against Glenbard West, the defending state champions. Though the Stars didn't walk away with a victory this time, Poulin said that looking at the beginning of the season up until now, the Stars have been making great progress, improving their skills everyday, and he is proud of how far they have come. 
"I feel like earlier in the season, that might have been a game [Glenbard West game] that got away from us, and we've done our work and we've made progress and we're getting to the point where, you know, we're playing consistent basketball consistently well, well enough to be competitive and win, which we weren't doing early on," said Poulin.
The boys' tough game schedule also allows them to face challenges together as a team and create long-lasting memories, while also giving them the chance to progress. 
"We want to schedule challenges. Early on, we took some lumps, but this team keeps coming back to work, stays positive, you know, does their homework, we watch film and they're there, they pay attention and they keep working and we're getting better. Anybody that watched us earlier and is watching us now can see that," said Poulin.
The boys have a tenacious mindset which allows them to have the determination to continue working hard towards their goals.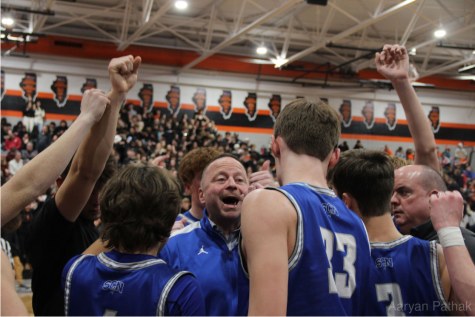 "The type of people that they are, the guys on the team, you know the character they have to stay positive and to keep working towards that ultimate goal, which is to have postseason success, says a lot about them, but it's definitely, definitely come a long way," said Poulin. 
North is hosting the regional playoffs for the boys basketball team, and many of the teams that North has already played have a high chance of being in North's regional, giving the Stars an advantage. By playing familiar teams, the Stars will be well versed in knowing how to defeat them. 
In order to prepare for these games, the team focuses on strengthening their mentality and creating goals that they want to achieve. 
"We usually identify three goals for each game. And they could be anything from a mindset, or energy, or it could be really detailed as far as something you have to do defensively consistently or you have to do offensively consistently," explained Poulin.
There are also strategies that Poulin has used in the past to get the players ready and in the zone. 
"When we get closer to the tournament and begin the state tournament we actually do some meditation that's directly created for athletes. It's something that you do before practice, after practice, before competition, and after competition. I think most of them end up really liking it and believing that it helps them kind of get focused," said Poulin. 
On Friday, Feb. 10, the Stars will be playing the Panthers of Glenbard North on the Stars' home court.