North Dance Team Finishes 14th at State Competition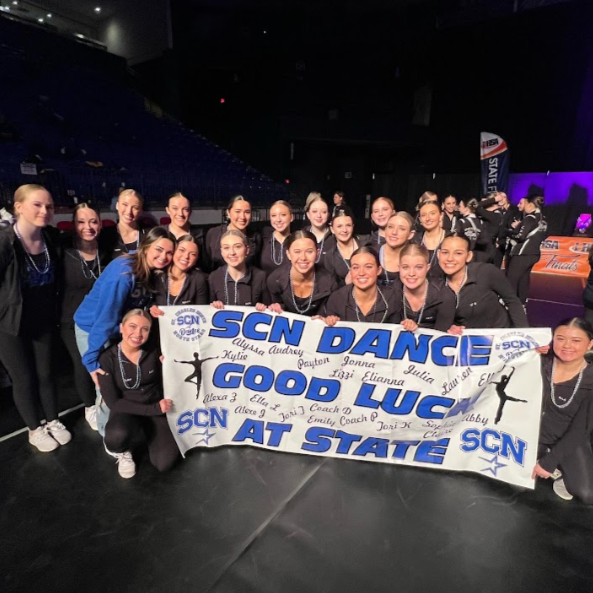 The St. Charles North Dance Team traveled to State on Jan. 27 placing 14th overall. The competitions took place at the Grossinger Motors Arena in Bloomington, IL. 
The State competition was held over the course of 2 days, where the top twelve teams from the first day of the competition advanced to the second day. 
This trip was particularly exciting for the girls, as the North team hadn't been to State since the 2020-2021 school year, where they competed virtually. The last in-person State competition they participated in was in 2020. 
"I think for all of us, it was just really exciting. We didn't get to go last year. So it was really new for everyone," said Abby Svihra, junior dance captain. 
For State competitions, dance teams all around Illinois compete in sectionals and need to place in the top six of those individual sectionals to make it to State. North placed fourth in their sectional.          
The girls have been practicing their competition routine since the summer, putting in immense amounts of hours and practice to perfect their dance routines for State. 
"We started learning our dances in June maybe and then we've been practicing them until last week so we practiced three to five times a week for three hours and just kept running the dances," said Svihra.  
The routine performed by the team was a lyrical dance involving advanced acrobatic tricks that included 17 girls on the floor, using the song "An Evening I Will Not Forget" by Dermont Kennedy. 
After putting dedicated effort into training throughout the season, the dancers were ready and excited for the State competition. 
"We felt really prepared… We did so well in sectionals that we actually thought that we had a chance of making it to the second day [another round for dancers who have been chosen to proceed on with the competition] which St. Charles North dancing never has. And we actually got 14th, so we were two places away [to making it to the second day], which was really exciting, but I'm sure we'll get it soon enough," said Tori Trevino, senior dance captain. 
The girls endured a lot of stress while training for the competition, but in the end they were happy with how they did and were glad they had the experience. 
"I was proud that we really pulled it together. And that last week we all really worked hard, and by the end of it you could tell that we all just really wanted [to win] it for sectionals," said Trevino. 
Proud of their performance and how they worked with each other, the team reflected on their experience with a positive attitude. 
"It was one of the best experiences that we could have shared together just because we all knew that our hard work that we had done paid off," said Trevino. "And I really feel like that's a rewarding thing to feel because everyone should feel like that because we really did deserve it. And I just felt like it was a great thing for us to share."