Two New Clubs Come to North
Muslim Students Association
Muslim Students Association, or MSA, was a club that stopped running regularly at North in the 2015-2016 school year, but it was brought back by a few determined students this school year to have a space to connect with their Muslim peers.
Although MSA is a reinstated club, it's technically still a pilot club and will be considered as one for a year rather than two like typical pilot clubs. The club was originally discontinued due to the founding members graduating along with low enrollments, leaving nobody to assume their positions and keep the club running.
Because MSA was reinstated, this made the process of starting the club much quicker for the founding members.
"We found out it [was a reinstated club] so we were able to meet the next week. So we really just avoided a lot of steps that would have happened if it wasn't," said Aya Belhandouz, junior vice president of MSA.
MSA meets after school every tutorial Wednesday in room 234.
The overall goal of MSA is to provide a community for Muslim students and reflect on prevalent ideas and topics in their lives.
"Part of our plans are just to raise awareness about Muslim students and their presence at North and also to provide you know, that safe place for people of similar backgrounds to meet and talk and feel supported by each other," said Katie Dickson, North teacher and adviser of MSA.
The club has many plans to give back to Muslim-related causes, such as donating to organizations supporting the people of Syria and Turkey following the earthquakes that devastated those predominantly Muslim countries in early February.
"We're hoping to have something through Pushcoin where people could donate and then the proceeds would go straight to an organization that would then donate to people in Syria and Turkey," said Javeria Hasan, freshman and treasurer of MSA.
There are also specific inequities within North the club has hoped to address, like the cafeteria food, which Muslim students are unable to eat due to the meat served not following specific halal guidelines. This leaves Muslim students often resorting to vegetarian options.
"We can't really eat any of the meat here if you're sticking strictly to Zabiha, which is like meat that is slaughtered in a certain way," said Hasan.
Overall, MSA hopes to draw in more students looking for a space to feel supported and heard by their peers who share similar experiences and backgrounds as them.
"[We want to] ultimately build a community of people at North to have somewhere to bring their issues to and just feel a sense of community and raise awareness and dismantle stereotypes at the same time," said Belhandouz.
MSA's next meeting will be on Wednesday, March 1 in room 234.
Investing Club
After his attempts to get it running since the last school year, junior Ishan Dhingani finally got to see his dreams of bringing Investing Club to North become a reality.
Investing Club is a pilot club that recently launched at North. They met for the first time on Feb. 7 in room 300, and will continue to meet every other Tuesday.
Dhingani reached out to Eric Bostrand, who teaches Investment Management at North, to help him get the club started. Together they worked through the process of getting it started with Student Life to get Investing Club into pilot status.
The club sets itself apart from other business and economy-based clubs at North by focusing solely on investments and stocks.
"I know there's DECA [and] Business Honors Society, but they don't really go into the investing aspect. It's more entrepreneurship, and investing is different," said Dhingani.
For future meetings, the club has plans to explore various topics related to investing that aren't usually taught in regular investment classes.
"The club's going to start with just kind of investing basics. Then the students want to explore different topics in investing, whether that be you know, analyzing a stock chart or doing some of the investments that aren't necessarily part of the course," said Bostrand.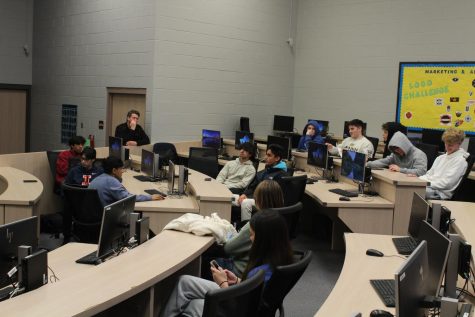 They also plan to bring in guest speakers to talk to students about investing and money management.
"[We] have some goals and some discussions set to have guests come in, financial professionals and people who've worked in the industry to come in and speak with and work with the students as well," said Bostrand.
The club hopes to help members learn important lessons on investing in the club. Students who are interested in investing beyond a semester-long course like Investing Management, want to major in it in college or even just want to learn how to make money on the side as adults are encouraged to join.
Bostrand and Dhingani share the belief that students should know valuable skills regarding investing, and how to manage their money so it works best for them.
"I feel like everybody should know how to manage their money, where to put it. So the money isn't just sitting in some bank account, it's actually working for you," said Dhingani.
The next Investing Club meeting will be held on Tuesday, Feb. 21 in room 300.