Rihanna Sings her Heart out in Otherwise Underwhelming Performance
On Super Bowl Sunday, superstar singer Rihanna performed in this year's halftime show. Many other fans and I enjoyed the singer performing her iconic songs like "Pour It Up," "Umbrella" and many other fan favorites.
Dressed in a tight all-red Loewe Jumpsuit, Rihanna highlighted her baby bump, revealing her pregnancy with her newest kid. This answered the question many fans had when asked in an interview with BBC News on who she was bringing to the game, where she answered  "I'm thinking of bringing someone," she replied. "I'm not sure, we'll see." Many thought she would bring another famous artist such as Jay-Z or Drake, but she was in fact secretly hinting about her second child.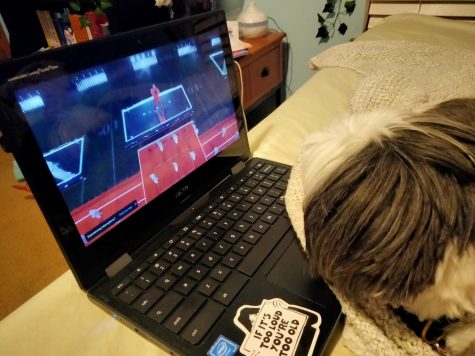 Rihanna sang her heart out with her white hooded backup dancers in the State Farm Stadium in Glendale, Arizona. During the show, platforms lifted the performers up into the sky making it seem as if they were floating in the air. And finally the show ended with Rihanna being lifted up on her own separate platform, concluding her show with one of her most famous songs "Diamonds." 
Although her performance had brilliant elements with fireworks and the moves done by the dancers, it was average as a whole.  Compared to past halftime shows like Katy Perry's performance six years ago, it was dull to watch. 
In the 2015 halftime show, Katy Perry's performance had the singer go through wild dress and stage setting changes to match every song's theme. One of them being where Katy Perry transitions from a fiery dress with flame thrower machines blasting out fire in the background to the song "I Kissed a Girl" to her changing on stage in less than 10 seconds to a brightly colored summer dress, singing "Teenage Dream" on a beach with dancing swimmers and sharks. 
Final thoughts is that I wish there were more going on with the show that would make the audience be glued to their screens not wanting to miss a single detail, where the show has a more mind blowing change to the stage or the performer herself, instead of the present result of Rihanna just singing on a stage doing very limited movement in her dance moves, along with a sea of bland whiteness behind her where the show producers just copy and pasted the same person as her backup dancers. 
I would rate the whole performance 3.5 stars because I additionally enjoyed Justina Miles, a nursing student and ASL (American Sign Language) interpreter, signing and dancing amazingly to Rihanna's song "Wild Thoughts." She is the first black deaf woman to ever perform ASL at the Super Bowl pregame and halftime shows.  
Sign language is using the movement of your hands as a way to communicate with those who are hard of hearing or deaf. Her performance I'm sure brought loads of joy to many deaf viewers watching the Super Bowl and the increased use of ASL in modern media is proof of the world changing for the better to be more inclusive for people who are a part of the deaf community.
Go watch Rihanna's performance on YouTube if didn't already see it on Sunday or if you just want to watch the iconic Caribbean Queen's performance again.