Class of 2026 Student Council Collects Art Supplies for Lurie Children's Hospital
Starting Feb. 27, the Class of 2026 Student Council members are collecting new and lightly used art supplies, books and puzzles for Lurie Children's Hospital. Donations can be dropped off in the LRC, Office 447 or given to freshman Student Council members until March 10.
Lurie Children's Hospital is a Chicago-based non-profit pediatric hospital that is affiliated with Northwestern Medicine. The hospital has multiple locations in Chicago and its suburbs.
"We chose Lurie because we feel like it's a heartwarming thing," said Neel Bhate, Freshman Class President. "When you donate to someplace, you want to feel like you're helping people and donating to Lurie, you know for a fact that you're helping people who really need it."
Student Council emailed Lurie Children's Hospital to ask them what they needed. The hospital responded that they needed art supplies for the children they care for.
"Most people tend to donate your typical toiletries," said Bhate. "They don't think about what the kids actually need; they think about what the facility needs as a whole."
Posters with information about the fundraiser have been put up around the school, and Student Council Adviser Megan Libberton sent an email to the entire staff.
"We were hoping that classes would collect together," said Libberton. "Clubs could do it together or sports teams or people could also do it on their own."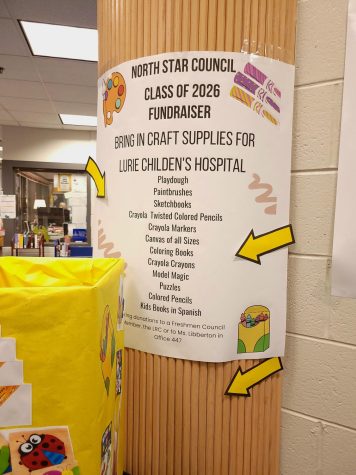 This is one of the two fundraisers that freshman Student Council members coordinate each year as part of their constitutional duties.
"So we did the first one first semester, which is a student council only fundraiser, and then the second one is an all-school one," said Libberton.
For the first fundraiser of this school year, members of Student Council brought in items for Lazurus House, a local nonprofit focused on providing shelter and support for people in need in the Kane County community.
For the Lurie Children's Fundraiser, Bhate and Libberton emphasized the impact of donating.
"If you can donate, it's going to a good cause," said Bhate. "The stuff doesn't even have to be brand new. As long as it's still mainly functional, you can still donate it…try your best to donate something."