Senior Varsity Wrestler Drew Surges Competes in State Competition
Feb. 16-18, senior varsity wrestler Drew Surges went to State representing St. Charles North. This competition took place at the University of Illinois Urbana-Champaign, although the process to get to this competition started long before. 
During the 2022-2023 season, Surges would practice with his team six days a week for about two hours per practice. While he and his team began preparing for the season in November, Surges has been wrestling since he was four or five years old. 
"So his training process has been going on for what's that, 14 years… 13, 14 years. So yeah, a lot of conditioning, a lot of work," said Dave Drews, varsity wrestling head coach. 
To qualify for State as a wrestler, you have to place in the top three for regionals. Once you place in the top three, you move on to sectionals and are required to place in the top four to go to State. Surges not only did this, but he accomplished placing first in both regionals and sectionals, which put him in the fourth seed going into State. This means that Surges was the fourth best wrestler going into the State competition. 
While Surges was very prepared for his competition at State, he unfortunately got sick the day prior to the matches which altered his overall performance. 
"He was sick, really sick the previous day. So that takes a lot, especially in a sport like wrestling, where you need every ounce of energy and strength that you normally possess. And he was down a little bit. He still performed fairly well; he missed placing by one match, which is pretty cool," stated Drews. 
At the competition, Surges beat his first match by fifteen points, while he only lost the last match, known as the blood round, by one point.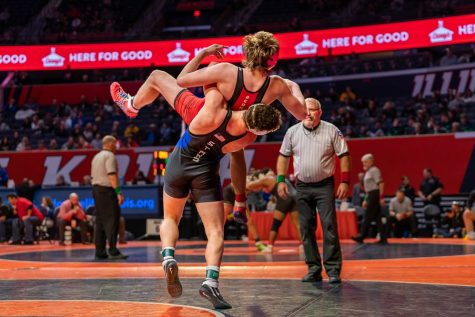 "So the kids he beat he destroyed. The ones he lost it was just by a small margin," said Drews.
Although this is a very challenging and stressful competition, Surges was able to keep a cool composure and seemed to brush off any stress that went his way. 
"He either is the most relaxed, calm kid I've ever met, or he plays it off very well. Even in our regional and sectional matches this is hand-to-hand combat, so for him to go into a match and in the middle of the match, him smiling? Kind of says something about your take on a situation. So, so if anyone handled the nerves, Drew did," stated Drews. 
Committed to playing football for Iowa State University next year, Surges had no reason to carry through with this wrestling season other than for himself and his team. 
"As a matter of finishing and completion, I'm extremely proud of him for even wrestling his senior year, so that's pretty cool," said Drews.