DECA Competes at State
On Mar. 2-4, 17 members of DECA, or Distributive Education Clubs of America, went to state to represent St. Charles North. The competitions took place at the Hyatt Regency O'Hare Chicago. Sophomore Tristan Melton and senior Carley Abi-Rached placed in the top three of their events, along with sophomores Aliya Clayton and Camden Vine and juniors Dylan Varghese and Tristan O'Dowd, who finished in the top 10 of their events.
DECA is a business competition team that works with all aspects of business. It includes topics such as accounting, finance, marketing, management and human resource management. At their state competitions, students compete in events they selected earlier on in the school year.
"Students pick an event that they want to compete in early on in the beginning of the year, [and] they prep for it. We take them to a fall leadership conference where they kind of learn about DECA and how it works. After the fall leadership they go on to a sectional event and at sectionals, that is where they will compete for the first time in their events," said Mike Horn, DECA co-adviser.
To compete, students participate in various events that test their knowledge on business-related topics.
"So you basically have multiple choice tests usually, and then it will be, like, a roleplay where you have to take on a role of either an employee or a manager and just kind of fit in the situation and find a solution for that. But there's also written events where you can propose a business plan or idea," said senior Connor Glanzman, an officer of DECA who competed in Restaurant and Food Service Management at the state competitions.
Vine and Varghese competed in Sports & Entertainment Marketing Team Decision Making, Clayton in Principles of Business Management, O'Dowd in Principles of Finance, Melton in Retail Merchandising Series and Abi-Rached won a silver medal for Team iConnect.
To prepare for state, the club members were given materials and practice scenarios that are similar to what will be at the state competition. They were also able to see past club members' performances at state.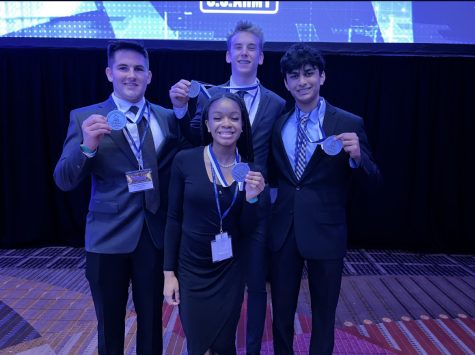 "We prep them with test questions and practice tests. And then we also prep them with practice role plays and then we give them you know, supplemental materials as well, where they can see previous winners or previous students that have qualified so they get a feel for what it's going to be like when they're there in front of the judges," said Horn.
Because of previous COVID-19 restrictions, this was DECA's first in-person state competition since before the pandemic.
"I just think this year has been really nice coming out of COVID. This has been our first year to actually have competition back live in person," said Horn. "I think that experience for the kids after the couple of years of COVID and not being able to do it [was important]. Really, we were proud of how they handled themselves in person."
The members of DECA were happy to have been able to have this experience and to enjoy their time together.
"I'm probably most proud of everyone in my team, just because I think I was the only one who went to state last year, so [for] everyone else [it] was like totally new for them, and they just had so much fun," said Glanzman. "I was just proud of everyone for you know, having such a new experience and you know, coming out of it."