Hundreds of D303 Students and Community Members Perform at Fiddle Fest
On Friday, March 3, D303's Fiddle Fest was held at the main gym of St. Charles North. Fiddle Fest is an annual event that takes place at either St. Charles East or St. Charles North High School. It is a community event that features a range of elementary to high school students as well as other adults and kids from the area.  It gives many people a chance to come together to create music and have a great time. 
While Fiddle Fest is usually an annual event, it is the first time the event has been held since the COVID-19 shutdown. The last Fiddle Fest occurred in February of 2020, and up until then it had been going every year since 2006. This year was the 16th Fiddle Fest. Even though it hadn't been held in years, there were record attendance numbers. There were almost 700 musicians and still a waitlist for more students wanting to participate. 
For Fiddle Fest, all musicians prepare the same, simple pieces of music. As Andrew Masters, St. Charles North orchestra director puts it, "[T]he songs are fun. You don't get to play these kinds of songs hardly ever so it's an outlet to play [songs] that we don't normally play." Every musician is supplied with a packet of the songs that will be performed, and on the night of the event, everyone comes together to perform the songs. These songs are selected to allow for all different skill levels to participate.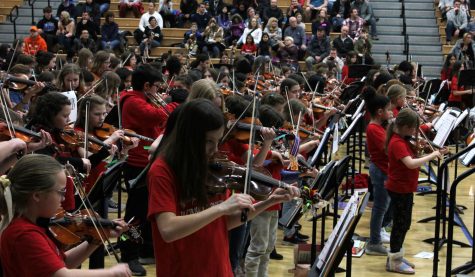 With so many musicians playing at the same time, it becomes more than just the people. Hanna Rey, a senior at North who played in the event, says, "[I]t's really a celebration of music in the district." 
Fiddle Fest is very unique in that there are more than just students from third to twelfth grade performing. Fiddle Fest also includes local family and community members playing their strings, and even performances such as bagpipes and authentic Latin groups. "We bring in local bands and different groups throughout the Chicagoland area to come and perform as special guests," Masters said.
Usually, D303's music performances are through concerts specific to each school. During Fiddle Fest, this is not the case. Alex Bryner, senior, notes, "We very rarely get to have all the string players in the district in one room playing together."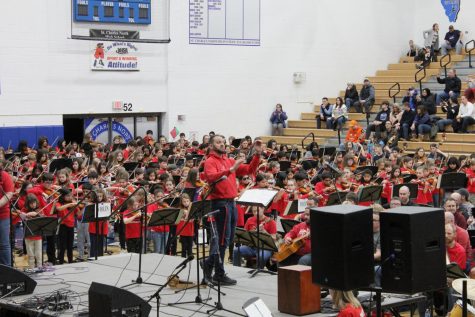 Some may think with that much variety and that many people, it must be a chaotic night. "It was nearly 700 musicians all playing at the same time, can you imagine that? How chaotic that would be, but it actually wasn't chaotic. It was massive, but it's super fun," Masters said. 
Fiddle Fest is an event where many people can belong and everyone gets something out of it. 
"It brings everybody together… It really is a community reaching event like none other in our district," stated Masters.