Moto Imōto Provides a Calm Environment and Tasty Eats
 Moto Imōto is located in the downtown St. Charles area, making it the perfect dine-in restaurant. The restaurant itself offers a fairly priced range of Asian cuisines from street foods to rice platters, with sushi being its most popular dish for customers.
One of the appetizers Moto Imōto offers is potstickers, a noodle-wrapped dish filled with savory pork, green onions and other vegetables that come delivered in a dumpling steamer. The steamer is then opened by your waiter and steam flows out into the air bringing a sort of freshness to the food.
Two well-known sushis served at Moto Imōto are the California roll, which includes snow crab and avocado, and the spicy tuna roll, which includes tuna and jalapeño. After trying both the California roll and spicy tuna roll, we recommend ordering the spicy tuna roll because it has more flavor and a better texture. The tuna melts in the mouth whereas the snow crab was a bit soggy.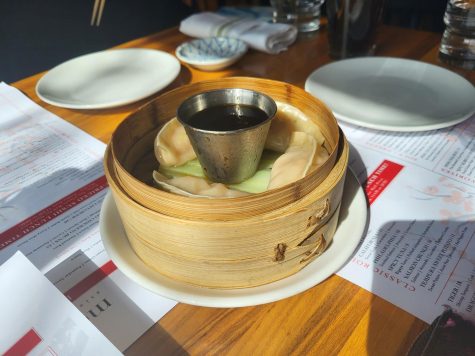 If you're going during lunch hour, we personally recommend their $16 bento box lunch for those who want to try a variety of tasty food the restaurant has to offer, like their miso soup or gingery salads, rice, sushis and different sauteed/pan-roasted meats.
Compared to other establishments, Moto Imōto makes significantly less greasy foods and is a much healthier option when looking for Asian-cuisine restaurants. Compared to the orange chicken made at Moto Imōto, at other Asian-cuisine establishments, the broccoli is soggy and the chicken is bone dry.
Overall, the food left a satisfying feeling in our stomachs, meaning that we weren't too full, but didn't leave hungry.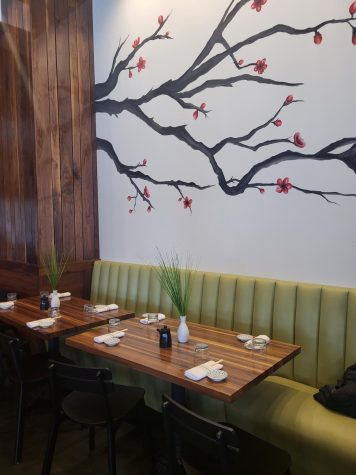 Other than its delicious food options, the overall atmosphere of the restaurant was very lively and pleasant. Moto Imōto is filled with fake plants with each table having either fake mini bonsai trees or ferns giving a natural aesthetic to the restaurant. Visiting Moto Imōto would be rated a 4.5/5 star experience, recommended to all who want an enjoyable place to eat delicious food.
Moto Imōto can be found on Facebook @motoimotostcharlesil and Instagram @motoimoto
The restaurant is located at 181 S. First Street, St. Charles, IL, 60174
Phone Number: (630)-425-0990
Open Daily at 11 AM, CST