"So Much (for) Stardust" Returns to Fall Out Boy's Roots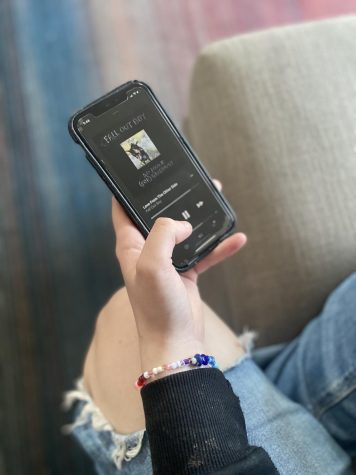 Fall Out Boy released their eighth studio album "So Much (for) Stardust" on March 31, and it exceeded my expectations. The Chicago band has been in a bit of a downward spiral ever since their hiatus in 2009, with their seventh album "Mania" being received poorly by both fans and critics. This album, however, has been met with a lot more praise and it is absolutely deserved. 
Fall Out Boy began releasing more heavily processed pop songs with their 2013 hit album "Save Rock and Roll." With each album since then they have repeatedly failed to return to the status that they held during the 2000s. For this current album, however, they went back to the basics. The album was produced by Neil Avron, the producer for three of the band's pre-hiatus albums. Songs throughout the album have a heavy guitar that feels very similar to 2005's "From Under the Cork Tree" and some beautiful soul vocals from lead singer Patrick Stump that is reminiscent of 2007s "Infinity on High." 
The opening track "Love From the Other Side" immediately shows what kind of songs the rest of the album is going to be made of. The song opens with a simple piano intro, a gorgeous string section and it continues to build until Andy Hurley's pounding drum beat and Joe Trohman's powerful electric guitar. The song does a brilliant job at mixing the beloved old sound that made Fall Out Boy such a popular band while still keeping it fresh making sure it doesn't reach the point where it seems like they are just searching for prior success. 
Another return to form for Fall Out Boy was the return of spoken word tracks, something that hasn't been seen in one of their songs since "20 Dollar Nose Bleed" off of 2008's "Folie à Deux." There are two of these tracks in the album. "The Pink Seashell" features actor Ethan Hawke since the lyrics to the track are taken from the 1994 movie "Reality Bites," which starred Hawke. The backing instrumental for the track was written by the band and is unbelievably serene with a strings section being backed up by low brass and a guitar practically screaming over top of it all. The second spoken word track "Baby Annihilation" is performed by Pete Wentz, the band's bassist, front man and main lyricist. The instrumental for this one is much more ethereal, providing support to Wentz's poetic words. While I've never been the biggest fan of the deep, emo spoken word poetry that Wentz writes, part of me is happy to see it come back. Especially since one of the biggest issues with the band's previous album was the complete absence of quality lyrics.
A song that absolutely stands out amongst the rest is the title track, "So Much (for) Stardust." The song opens with a string section before introducing a heavy piano track and a brilliant drum line from Hurley. The song continues to build before reaching an incredible chorus where an electric guitar, trumpet, and drum set collide to create the perfect sort of feel for a final track. The song also features some of my favorite lyrics in the whole album including "ache it till you make it" and "I'm pretty positive my pain isn't cool enough." Stump kills it on this track, switching from a lower voice into absolutely belting out the chorus and finishing it all by singing alongside a choir in a gorgeous soul voice. The song also ties the entire album together by including a line from the opening track "Love From the Other Side," ending the bridge with "you were the sunshine of my lifetime, what would you trade the pain for?" Serving as a perfect conclusion to the whole album.
Now there are a couple things I don't like about the album. Wentz was absolutely underused when it comes to his skills as a bassist. Songs like "Hold me Like a Grudge" and "So Good Right Now" open with great bass lines that really show off his skills as a bassist, but he isn't really present outside of those two opening moments. Utilizing a slow heavy bass line on some of the tracks could have really added to the orchestral feel that is present throughout the album and it's a shame that it isn't fully present.
All of the flaws that are present in this album come in the form of one particular song, the penultimate track "What a Time to Be Alive." This track has some positives such as a really cool combo of bouncy high strings and electric guitar but the rest of it was a bit of a miss. The transition into the bridge had an effect on Stump's voice that reminded me so much of the heavily processed stuff that has been annoying to see in the most recent albums. 
My biggest issue, however, is the fact that lyrics throughout the song reference quarantine and the pandemic with "I've got the quarantine blues" and "sometimes you wonder if we're ever looking back at a picture of 2019 and saying 'that's the way, the world, it used to be" being the greatest offenders. We have been post lockdown for a bit now and referencing quarantine and the pandemic already feels a little dated. This really annoys me since none of the other songs faced this issue and I wish a song with an instrumental this good could have had better lyrics to go along with it.
So many songs on this album are absolutely incredible and I wish I could talk in depth about all of them. Unfortunately, I can't so some quick highlights include "Heaven, Iowa" which has absolutely beautiful vocals from Stump, "I Am My Own Muse" which has a very quick string part which fights with an absolutely pounding guitar from Trohman and an incredible brass section that creates the greatest opening to any Fall Out Boy song by far and "Hold Me Like a Grudge" which has some brilliant lyrics that talks all about growing up and growing apart from those close to you. 
As a whole, this album is very well done. It is easily the best album that Fall Out Boy has released in the past fifteen years and it has successfully proven that the band has not given up yet. Wentz absolutely wrote his heart out with some of these lyrics which is so nice to see since the quality of lyrics in Fall Out Boy's recent albums had been getting worse and worse. Trohman and Hurley absolutely killed it with their instrumentals and it's awesome to see them shine since the overly processed "Mania" failed to let them be at the forefront. Stump, of course, provided some incredible vocals throughout this album and did a brilliant job with composing the orchestral parts of each song. While this album still fails to reach the might that the band's 2000s albums hold, this album shows that they are in an upward swing and I expect them to get better and better over the next however many albums they decide to release.