How to do Better at Recycling
The bustling cafeteria fills with students, each hungry to get their food for the day. And after sitting and eating for a short while, they get up and head towards the trash to get rid of their paper boats, bags and wrappers. Some make sure to put them into the garbage bin while others may just toss them into the recycling instead. But the simple action can have a much larger impact. Every school day, many North students and staff alike make an effort to recycle only for it to sometimes end up in the garbage anyways. So while the school does recycle what it can, it just takes one piece of garbage for all the contents of a recycling bin to be discarded.
When something non-recyclable or even just dirty is put into one of the blue recycling bins, it means everything else must be thrown out. The custodians can't go through each bin, separate the contents and clean the recyclable items that got all grimy.
"The biggest thing that most people don't understand is when the custodial group comes around and they look at those boxes if there is one ounce of food in there it all goes in the garbage," said Peter Gleason, science teacher and Eco Club advisor.
Melinda Roberts, Assistant Principal for Student Life, gives an example of how the recycling process works.
"If I were to throw an old pizza box in, not only would the pizza box not be recyclable because it has food grease all over it, anything that was in this bin is no longer recyclable and then has to be thrown in the trash," said Roberts. "Anytime somebody puts something that's not recyclable, that's contaminating it."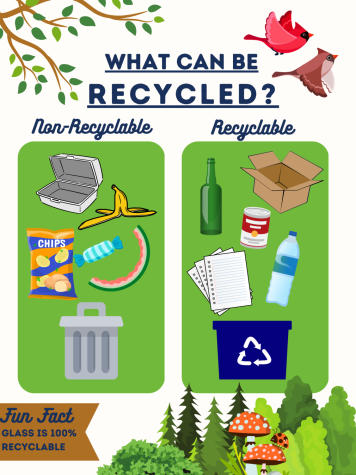 Luckily, improvements have been made to recycling at North over the years.
"I know when I first started working here [around] 15 years ago students would receive their lunches on styrofoam platters, and we have eliminated non-recyclable materials in the cafeteria for the most part," said Roberts. "And then [our PTO], just before the pandemic, invested in multiple recycling canisters that we put in high-traffic areas."
There have been many past attempts to educate students and staff about proper recycling etiquette. However, the ever-changing population of North means that frequent education about the topic is necessary.
"When we look at the need of coming back to re-educate new groups of people who haven't been a part of the system for as long as I have or other staff members, it's important that we need to be intentional about sharing that kind of information," said Roberts. "Our Eco Club has done a lot of work over the years with that as well with the educational components that talk to students about how they should recycle."
North's Eco Club, depending on the year and who's in charge, does everything from going out in the community to putting in effort to better the school's recycling. They've lately been working on several different projects, but they want to further an idea for next year.
"Just back in the 400s [pods], we would just have a box with a slit in it that could just have paper in it," said Gleason. "And then as that fills up, you recycle all of that paper."
It is important to make sure that only clean, recyclable items such as paper, bottles and more are recycled in order to make sure they don't end up in landfills. The concept sounds simple, but everybody needs to work together at North for it to be done.
"Really I just think that the building needs to be better," said Gleason.