North Theater Program Prepares for Upcoming Musical "25th Annual Putnam County Spelling Bee"
The St. Charles North theater program is preparing for this year's spring musical, "The 25th Annual Putnam County Spelling Bee" written by Rachel Sheinkin, which will be performed Thursday Apr. 20 through Sunday, Apr. 23 in the auditorium. Each show will begin at 7:30 p.m, apart from Sunday's performance, which will start at 2 p.m.
The musical follows a group of students participating in a fictional spelling bee and the adults who help run it. Not only is the show witty and enjoyable for audiences, but it also displays deep themes of transitioning into adulthood and familial pressures.
"It's really about children and preteens getting ready to become adults and trying to learn how to become an adult…it's not just a spelling bee and funny, although it's really funny," said Konnie Sherry, co-director and choreographer for the musical. 
This production doesn't feature any specific leads or main characters, making this more of an ensemble show. This also means some cast members get to create their own characters for the production, which allows the actors plenty of room for creativity and freedom. 
"We got to make our own characters basically, make our own little kids and figure out all their personality traits," said freshman cast member Abby Potts. "I think creating your own role is a lot of fun."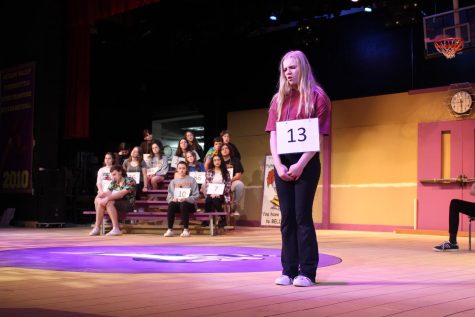 This production sets itself apart from many other musicals by incorporating aspects of improv into the performances. 
"We actually have audience volunteers that come up onto the stage. So there's a lot of improv involved because it's different every show…and they're actually dancing with us even though they don't know the choreography," said freshman Holly Stone. 
Including improv in a musical provides a bit of a learning curve for cast members because they never know what to expect, and being able to think quickly and stay in character is particularly challenging. 
"The most difficult thing is that we don't really know what to expect because the audience volunteers play a very crucial part in the show," said Stone. 
Needing to think quickly on their feet isn't something exclusive to cast members during improv related productions, the tech crew plays a big role in making sure the show runs smoothly no matter what happens. 
"You never know what's going to happen next…if they mess up, we need to snap into the next light cue or the next arrow because someone mixing up their head for one little second could change the entire show," said sophomore lighting designer Brian Zuckerman.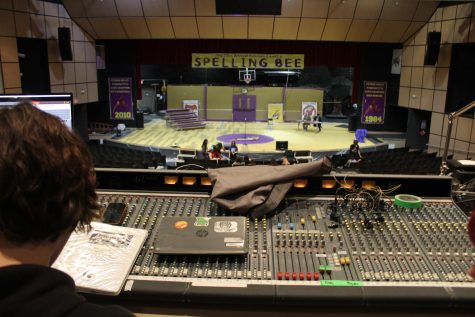 Those involved with the musical hope audiences will enjoy the array of witty humor, relevant pop culture references and engaging scenes that this production has to offer.
"I just am really excited to deal with the audience members and see how they react because they add such a level of comedy to the show that you can't get when you have a cast who already knows what they're supposed to do and know all the jokes," said Potts. 
After rehearsing since February and working hard to put this production together, the cast and crew members are excited to entertain audiences with this unique and unconventional musical. 
"Everybody should really come see the show. It's so funny, it's entertaining, it's interesting [and] the music is great. And it's a good way to support the theater department," said Stone. 
Tickets are $5 for students, $10 for adults and free for senior citizens. They can be bought at the door or on the SCN Theatre website.