Math Team Competes at State with Two Members Placing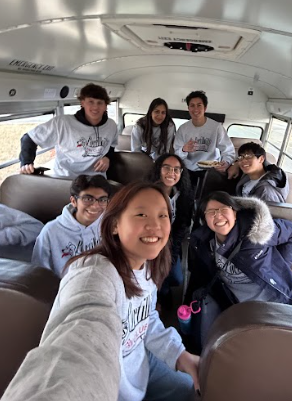 On Saturday, April 22,  14 members of the St. Charles North Math Team traveled to Illinois State University to compete at the annual state math competitions held by Illinois Council for Teachers of Mathematics (ICTM). Usually, in-person state competitions are held at University of Illinois Urbana-Champaign; this is the first year they were held at ISU. 
Juniors Max Fang and Keshav Gupta placed 9th overall in their two-person event at the competitions. 
Math competitions consist of different events, including individual events, two person teams, eight person teams and calculator teams. Each event involves solving math problems under a time limit.

This was senior and math team captain Sophia Vallejera's first time competing at state in person.  
"It was definitely an experience that I was excited to have since like my freshman year I didn't qualify, but then COVID happened anyways, [so] we wouldn't have been able to go. Then sophomore year was all online so we couldn't go, and then my junior year we did the [online] competition at school," said Vallejera. "It was nice finally for my senior year that we got to go in person." 
Math Team is a part of North Suburban Math League (NSML), meaning they practice and compete in meets similar to the state competitions year-round. They meet every tutorial Wednesday to prepare for competitions, but a majority of the practice that goes into getting ready is done by members themselves. 
"What's really notable about the nature of math team is that it is 100% student-driven. As coaches we prepare the information for the students to use to prepare for events, but they are preparing themselves," said math team co-adviser Jennifer Anderson. "They're really the ones that are driving themselves, pushing themselves forward to compete."
The math team advisers are also proud of how far the team has grown throughout the year.

"We started off as a really small team at the beginning of the year. I think the first meet that we went to, we only had seven students total, but we still got second place at that meet," said Dina Johnson, Math Team co-adviser. "As the year went on, our team grew and grew and grew which was wonderful to see. And then by the end of the season, we had 14 of our members qualify for state, which is fantastic."
The team members were glad to have the experience of the competitions and proud they'd made it to state in the first place. 
"I think as a team we didn't score very high, but I'm still proud of our efforts, and we made it to state which I thought was pretty cool," said Vallejera.