Pho Ly Delights with Modern Vietnamese Food
Pho Ly, a new Vietnamese restaurant located in downtown St. Charles, delights customers with fresh food and bold flavors. Opened in February, Pho Ly is a recent addition to St. Charles' restaurant scene. It combines traditional Vietnamese food with a modern setting that adds to the dining experience. 
I tried Pho Ly for the first time last Saturday with my family, to see what St. Charles' newest restaurant had to offer. 
One of Pho Ly's dishes, spicy lemongrass chicken rice, features a mix of flavors, that, while different, meld very well. From the freshness of the lemongrass sauce, to the fluffy rice, to the slight heat from the chilis, it created a thoroughly enjoyable meal. Another dish, their chicken sandwich, also featured fresh ingredients: pickled carrots and cucumber, cilantro and jalepeño with the chicken on buttered bread. However, the sandwich was dry despite the freshness of the ingredients.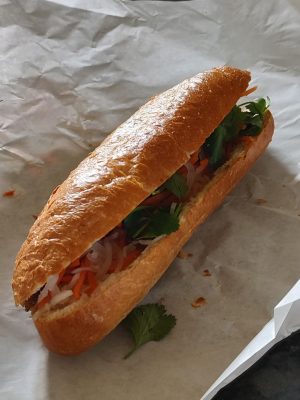 Pho Ly also serves a few different types of bubble tea. I enjoyed a brown sugar milk tea with tapioca pearls. The tea itself was light with just the right amount of sweetness. The pearls were a bit overcooked, but they nonetheless added texture and sweetness to the drink.  
The atmosphere also adds to the appeal. The setting is a simple yet tasteful modern design that creates an environment that focuses on the food and less on extravagance in the space. The restaurant itself is relatively small, leading to an intimate atmosphere that encourages interaction between customers and staff. 
Overall, I would recommend giving Pho Ly a try. I enjoyed the focus on the flavors that is clearly shown through the food itself, as well as the restaurant's setting. Next time I would be interested in trying their pho, as that is what they are known for, as well as some of their other flavors of bubble tea; I would give Pho Ly three out of five stars.