Chess Sees Increased Popularity
Interest in chess both at North and worldwide has been increasing recently, with rapid growth during this school year. Students have taken up chess as a hobby with many playing chess casually online.
Chess.com, one of the most popular chess websites on the internet, reported record numbers of users early in 2023. According to the site, more than one million games of chess were played an hour using the site in January. 
"It's crazy. I'll see people through the hallways play chess on their phone, and I'll see people playing chess on their computers," said senior Henry Piper, Chess Club president. 
North's Chess Club has seen a recent increase in membership.
"Team numbers have increased," said Chess Club adviser Brad Lenart. "We had sometimes 20 people in here. It was a full room, just kids playing."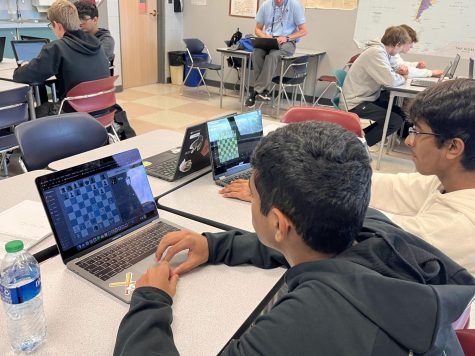 According to Lenart, interest in chess was rising before the pandemic.
"I was always struggling to get numbers," said Lenart. "Then I'd say probably about five years ago, maybe even six, it seemed like there's just freshmen coming [to Chess Club] already and the numbers were getting better."
During the pandemic, chess saw a significant growth in popularity, with Chess.com seeing their number of active users double.
"It grew big in the pandemic because a lot of people [were] home and [couldn't] go out and do stuff," said Lenart. "I think they got turned on to either playing at home or somewhere online. It's so easy to reach out to people online."
Recently, chess has also found its way back into popular culture, fueling interest in the game.
"Netflix had that show 'The Queen's Gambit,'" said Lenart. "I know like a lot of people that don't even like chess were like super into that and they said it just kind of opened their eyes."
"The Queen's Gambit," a Netflix series about a young female chess prodigy struggling to become the world's best chess player, boasted an astounding 62 million views on the streaming service. After the release of the series in October of 2020, Chess.com saw a massive increase in new users.
Piper also points to social media influencers getting involved in chess in driving popularity.
"There's been some really popular creators this year that have come out with chess [content]," said Piper.
In November of 2022, a Louis Vuitton photoshoot featuring superstar soccer players Lionel Messi and Christiano Ronaldo playing a game of chess went viral. Ronaldo's Instagram post of the photo was the third most liked post on Instagram at the time, exposing chess to Ronaldo and Messi's massive audiences.
In December of 2022, immediately before Chess.com experienced its record-breaking surge in users, popular YouTuber Ludwig Ahgren held a "chess-boxing" tournament with other popular content creators which over half a million people watched live.
Chess Grandmaster Hikaru Nakamura and International Master Levy Rozman create their own chess content online, which has seen notable success. Rozman's YouTube channel has received over 1.3 billion views since its start in 2018 according to YouTube statistics.
"[Chess] is one of the oldest strategy there is…to me, it is still the ultimate one," said Lenart.