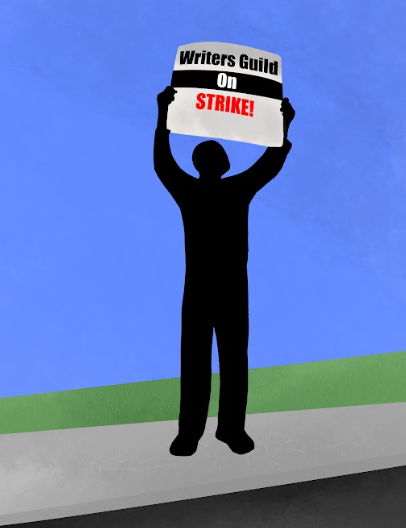 About 80% of people across America consume some form of television on a given day, whether it's a movie or show, live-action or animated. However, all the TV Americans watch doesn't appear out of thin air. Making a show or movie requires directors, producers, actors, writers, set designers, camera operators and even more jobs, many of which aren't treated fairly or appreciated for the effort and time they require.
Since May 2 this year, the Writers Guild of America (WGA) has been on strike against Hollywood, soon followed by the Screen Actors Guild and American Federation of Television and Radio Artists (SAG-AFTRA) in July. Film makers and crews have been actively protesting in support of the WGA and SAG-AFTRA, one of the most notable instances being when many of the "Oppenheimer" cast members walked out of the movie's U.K. premiere.
The media labor unions began their strikes for a variety of reasons, many having to do with a lack of financial stability that became further amplified because of the shift from network television to streaming services.
Streaming services have become very popular over the years, and despite the fact that they charge viewers a subscription payment, therefore generating high profits for the companies, actors and writers are often paid very little and are stuck in poor working conditions without set salaries. The demands made by the WGA for instance would only cost less than one percent of Disney (0.088%), Netflix (0.206%), Apple (0.004%), Amazon (0.006%) and other streaming platforms' annual revenues, yet the strikes are still ongoing due to the streaming services' refusal to budget accordingly.
The struggle for stable pay has now combined with the increasing usage of artificial intelligence (AI), as it possibly could end up taking jobs from actual people. AI doesn't need to be paid, and it can even replicate an actor's face, voice, etc. without their consent for Hollywood to use. SAG-AFTRA is demanding that the identity of actors be protected while the WGA is trying to ensure that AI can't replace writers, instead limiting it to a tool for writers to use.
Some positive change might come out of the strikes before they're even over, though. For instance, Marvel's visual effects artists filed to unionize and are counting votes until September 12 which will allow them to gain benefits and protections that other entertainment industry workers receive.
Film makers and crews have had a history of striking Hollywood on and off since the 1950s. In 1960, actors and writers finally obtained a pension and welfare system after a 153 day strike from the WGA and a 43 day strike from SAG. The landmark win has been followed by major strikes lasting at least a month in 1973, 1981, 1988 and 2007-2008, slowly improving salaries and creative freedom for actors and writers in the United States. Now there is much more to account for, including technology that has rapidly advanced over the decades, but the ideals remain the same: actors and writers are important to entertainment and deserve fair compensation for them and their work.