The North marching band will be "going digital" for the first time this year. By switching from paper to digital music, the band directors hope to make marching band cheaper and more organized, as well as better prepare students for the future.
In the past, every student in the marching band marched with a flipfolio, a small binder that contained the many songs the band would play every football game, each in its own little plastic case. This year, each student will march with their phones on an app that displays the music for them. The app that the band has been using, despite having its initial issues, seems to be working well for the students.
"I think going digital had its struggles at first, but now that we got it all sorted out I think going digital is much easier than using flip books," said Ian Levin, sophomore.  
Having all of the music digitally also ensures that students don't lose it. Additionally, it saves time for the band directors and student drum majors, who help organize and conduct the band.
"Last year we had to go in early and cut all the music, print it all out, and organize it by section, but now most people just have it on their phone, so it's a lot easier for us," said Leslie Lainio, senior and Drum Major. 
Not only has switching to digital saved time for people, it has also saved money.
"[Going digital] was a decision based off of trying to be as equitable as we could with our resources," said Kevin Dobbeck, marching band director. "We had been printing reams and reams of paper … It was like $4,500 just to have the things that the music goes into."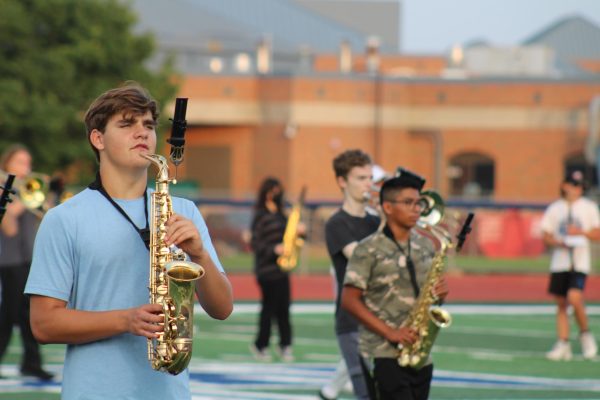 The marching band directors also hope the switch to digital music now will prepare students interested in playing music in a band outside of high school, where they'll most likely come across digital music there as well.
"In professional music, a lot of situations are all digital now. You get the music ahead of time digitally and people show up with iPads," said John Wojciechowski, marching band director.