While North offers various business courses, only one of them offers students the ability to present their own team-made business in front of judges to win money to grow and continue their business, just like in the TV show "Shark Tank".  
The year-long class, known as INCubator, is designed in a similar way to the TV show, where students develop startup companies based on products or services they design with the eventual goal of getting their company to market. 
"Once [the students] solidify what their team's idea is, they're going to go through all of the steps to try to build a prototype," said Mike Horn, INCubator teacher. 
Although the students run the businesses on their own, they have adult mentors who have their own experience in business or have started their own company to assist them. 
"We invite professional business people or mentors to come in and mentor the students on a weekly basis," said Horn. "Each team is paired up with a mentor, and then that mentor helps walk them through the process all year long."
Mentors are very important to the students' processes, and INCubator is very welcoming to adults with business experience who can help the students with their creations. 
"I try to search out as many [mentors] as I can and find them and invite them in. We've had quite a few returners that have been in the program for multiple years. But we're always looking for more and new ones," said Horn.
For the class's first semester final, students present their company's prototype to a panel of judges to receive feedback on their product. 
"[The judges] will give them feedback and say, here's what we like, here's what we think you should change," said Horn. "Then they get a chance to go back and do all the revisions and updates and changes."
At the end of the year, INCubator students from both North and East compete in Pitch Night,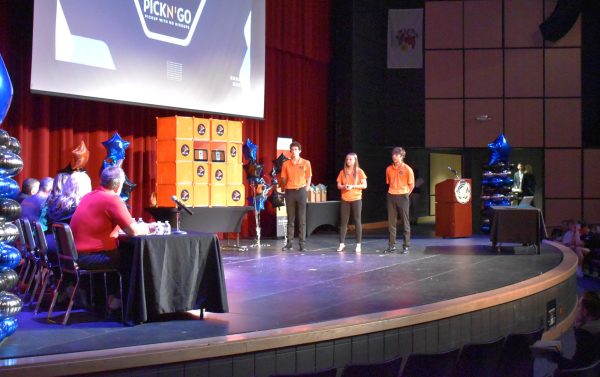 where final pitches are made in front of judges to win the grant money that goes towards getting their businesses up and running. 
First place winners receive $4,000, second place receives $3,000, third place receives $2,000 and fourth place receives $1,000. This grant money is from the district, although INCubator also accepts donations to help the students further their businesses.
"We are always looking for outside donations from other companies to even make that a greater amount of money," said Horn. 
This class gives students a fulfilling experience of starting their own company, and former students have used this class as well as the grant money to continue their business after high school. 
"Sometimes they learn from what they did in class and then they start something new, like after they graduate … I've had some teams that last year had two individuals that both broke away and started their own businesses, not what they did in class, the business they chose, but they use kind of those procedures to get their business up and running," said Horn. 
Although this is a business class, people with all sorts of interests can benefit from it. No matter your passion, this class will show you how to turn your passion into a company and be able to have a thriving business. 
"Students from all walks of life can come and take this class," said Horn. "We really can invite students from all over from different fields or different areas that might just want to be their own boss or start their own company."