On Sept. 20, many moviegoers, creators and actors alike headed to the historic Arcada Theatre in downtown St. Charles for the first annual Arcada Breakout Film Festival. It took place in the dreamy 1920s atmosphere of the building complete with a red carpet for pictures. Not only were there a variety of short films shown spanning between different genres and lengths, but they all had been made by up-and-coming independent filmmakers.
The Arcada Breakout Film Festival showed 12 short films total throughout the evening, the goal being to provide local filmmakers an opportunity to showcase their work to a live audience.
"We wanted to open up a festival to up-and-coming filmmakers to try to get their name out there, their projects out there, their art out there," said Susan Carlson, co-founder of the festival.
In fact, the festival didn't even require an admission fee for those submitting their films.
"A lot of the film festivals downtown and in major, major cities, mostly downtown Chicago obviously, they charge an arm and a leg just to be able to submit your film," said Amaria Rayen, co-founder of the festival who starred in her own short film "The Flower Girl." "We just wanted to make it as easy as possible."
A portion of the money made from tickets actually went towards the filmmakers themselves. The award winners for Best Film, Best in Cinematography and Best Director earned cash prizes. Also, the winner for Best Film won a one-on-one Zoom call with John Asher, an established Hollywood filmmaker and actor most known for his role as Gary in the "Weird Science" spin-off TV show.
I enjoy funny short films, so it was no surprise that my favorite was "The Noddy House" by Benjamin Allen Smith which won the award for Best Film. At first, it seems to just be Santa delivering presents to a family on a typical Christmas Eve. However, it isn't until he overhears the family talking that things quickly take a dark yet comedic turn. And even putting humor aside, storytelling tools such as the use of a record player help to really build an interesting ambiance and also makes for some great shots. It was clear a lot of thought went into "The Noddy House" and many of the other films that were shown.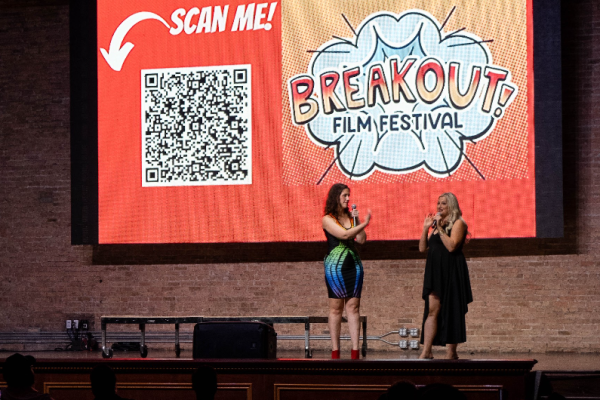 When it comes to the film festival itself, I had quite an enjoyable time. Everyone was provided the opportunity to vote on the Audience Choice Award, the winner being Rayen's "The Flower Girl." There were plenty of seats to choose from in the actual theater, and there was a QR code to scan for the program that could also be found on the slips of paper used to vote.
 Something I'd definitely recommend for the festival next year would be providing the names of the filmmakers in the program, not just the titles. Allowing people to associate a specific name with what they are watching can help smaller filmmakers get more recognition and credit for their hard work.
The first annual Arcada Breakout Film Festival was a fun way to showcase projects made by both bigger and smaller filmmakers in the Chicago area. It had a comfortable, vintage setting and plenty of entertaining short films screening through the night. However, my biggest takeaway must be the enthusiasm of everybody present. The creators of the festival were very passionate about the topic along with the excited audience hoping to encourage the creativity of film.
"I'm just really excited to see some new films that I've never seen before and just support the whole community of arts and acting and producers, directors [and] everybody working in this industry," said Shannon L. Novak, attendee.
For anybody like Novak hoping to show support towards our local filmmakers, heading to the next annual Arcada Breakout Film Festival is a great way to do so.