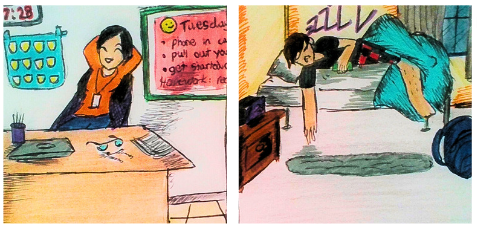 The idea of a "Senior Skip Day" is present across much of the United States; despite this, its exact origins are quite muddy. Typically, a Senior Skip Day takes place the Monday after prom when a school's seniors do not attend any of their classes, but in District 303, this idea has been drastically expanded.
Many seniors do not actually skip on a "skip day" but are instead called out of school by their parents. Rather than occurring only once a year after prom, multiple skip days are declared throughout the year. The most prominent of these is the Tuesday after Columbus Day which became a senior skip day due to how the week is scheduled.
All students have the previous Thursday and Friday off because of parent-teacher conferences and a School Improvement Plan day respectively, as well as the following Monday for Columbus Day. This already gives all students a generous five day weekend. 
Freshmen, sophomores and juniors then have PSAT testing the following Wednesday, giving seniors yet another day off. Seniors could get seven days in a row off of school just by skipping that one Tuesday. It makes complete sense why they would want to do it.
North teachers are aware of senior skip day and have different strategies of addressing it. Some teachers build in work days so that skipping seniors will not fall behind, while others continue lessons as normal. Some teachers actively try to discourage students from skipping by putting a test or quiz on that day.
Regardless of how they choose to address a Senior Skip Day, teachers are put in a catch-22. Having a "work day" without any new learning would only encourage more seniors to skip as they would feel they are not missing out on valuable information, but would also cause the least disruption when those students return. Putting a test on a skip day may discourage students from skipping, but many still skip. This means that the teacher has to deal with having each of them make up the test.
Underclassmen and seniors who chose to go to school on a Senior Skip Day are also put in an awkward position. With large portions of classes being missing, the dynamics of a room change massively. Sometimes those who do attend school are left in nearly empty rooms with very little to do for each 48-minute-long period. If their teacher chose to continue lessons on a skip day, students who actually attend that class are now ahead of their peers and will later have to wait for them to catch up.
This mass absence of students is also felt heavily in collaborative classes such as higher level music classes. Missing even a few more musicians than usual can make pieces significantly harder to play.
The school's administrative assistants who manage attendance are also affected. On skip days, they must deal with the far greater numbers of missing students who either actually skipped or were called out for the day. 
There is no denying that senior skip days are massively disruptive to the school day. Taking days off of school can be very beneficial to students; however, organizing multiple days throughout the year for massive numbers of students to skip school is not the same. Having so many people out of school puts unnecessary stress on staff and students who chose to attend school.
The purpose of our staff editorials is to start a conversation. The editorial topic and stance are discussed and agreed on by all members of the editorial board. Stargazer credits the writers of any staff editorials; however, the editorial does not represent the views of any individual writers and instead reflects the consensus of the editorial staff as a whole. To join the conversation, you can leave comments on any articles according to the guidelines found in our Editorial Policy.