The outfit you wear to Homecoming is one of the many memorable aspects of the homecoming experience. This year's Homecoming took place last Saturday, Oct. 21, from 7-10 p.m., where students filled North's main gym wearing a range of styles. These styles have drastically changed throughout the years, impacting the overall look of the dance. 
Starting off, the dresses are much shorter than in the '80s. Most of the dresses seen on Saturday were on or above the knee, in varying colors. Navy or royal blue with a glossy finish was the most popular; however, there was still a variety of colors, shades and tones in homecoming clothing.
The dresses' texture was usually rough with sequins or a smoother and stretchier silk-like material. Some girls had noticeable scratches on their arms and elbows from their own dress. Overall, sequins, sparkles and jewels are popular.
Although these fashion designs are true, designs on dresses weren't as common. Flower prints or floral vines were the only patterns seen at the dance. Mostly, the dresses were solid colors, sometimes with sparkles.
These differences demonstrate big changes from Homecoming fashion trends of the past. In the '80s, dresses were more formal, with long, colorful dresses that covered ankles; puffy sleeves and lace accents were also prevalent. Forty years later, the dresses that girls wear to Homecoming have drastically changed, with less emphasis on formality, and more focus on comfort.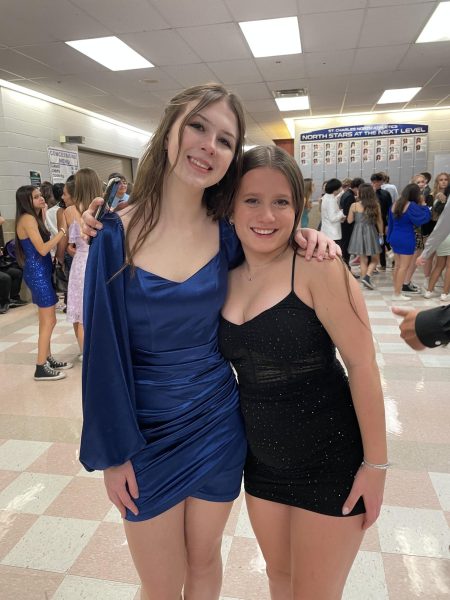 One example of this trend of prioritizing comfort is shoes. Footwear now is less formal than it was in the past. In years prior, students would go all out in extravagant high heels, sandals, or dress shoes. However, now it is common to see young women wearing Converse or Vans with their dresses, and boys pairing their button-downs with Nikes or Air Jordans. High heels and formal dress shoes are rarely seen. This is due to the fact that people now would rather be able to dance more comfortably, avoiding blisters from painful high heels or dress shoes. Some will even wear multiple pairs of shoes over the course of the evening, with fancier shoes for before the dance and less formal shoes for dancing.
 Men's fashion has changed a lot in the past forty years. In the '80s, Khaki or corduroy dress pants were customary, typically paired with a colorful button-up, suit jacket, or a tweed coat complete with thick shoulder pads and a boutonniere.
Nowadays, jackets and coats are less common, with boys opting to wear white or solid-colored button-ups. Their pants are also less formal, with some choosing to wear more comfortable blue jeans rather than traditional dress pants.
Overall, Homecoming fashion has changed over the years and impacted the homecoming experience with its focus on comfort rather than traditional attire. Whether some wear more fashionable, comfortable attire or traditional fancy clothes, Homecoming remains an experience to remember.