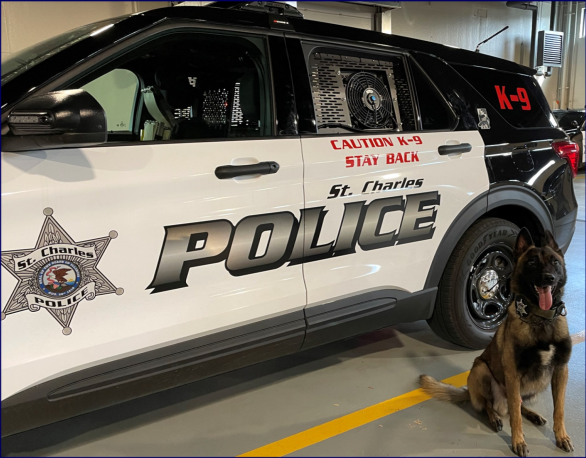 On Oct. 16, District 303 emailed parents and students that random K-9 inspections were returning to high schools in search of weapons, drugs and other illegal substances or materials. The first search at North since COVID lockdown occurred Oct. 24.
To conduct the random searches of school property, the administration chose to implement K-9 units.
"A K-9 unit is traditionally just a dog paired with a handler, and they can serve a variety of purposes," said Bryce Rentschler, school resource officer. "So I've worked with K-9s that have just been certified in looking for people, like search and rescue. There are drug detection, there are bite dogs, which are for apprehension. There's even dogs specialized in searching for electronics and things like that."
During an inspection, the intercom announces a "hold," meaning the hallways need to remain clear as teaching continues. If a student is outside their classroom at the time, they should get back to class as soon as possible so the K-9 can continue the search without interruption.
"Traditionally, the building will call a 'hold' for our new safety guidelines, which is just kind of holding your classrooms until whatever the K-9s are doing that day [is going] to be finished," said Rentschler.
When contraband is found on school property, actions are taken to keep the school as safe and uninterrupted as possible. Prohibited material and illegal substances are handled based on severity and risk.
"Ultimately, it's left up to [the administration]," said Rentschler. "They will usually be consulting with me and deciding our next steps, whether we're going to be speaking to somebody and maybe doing an interview, trying to find other reasons that might lead us to believe that there's something prohibited possibly in [the school], but it's definitely a case by case basis."
According to the state of Illinois and District 303 Board of Education Policy 7:140, search and seizure of any forbidden material on campus is lawful. Because North is a public school and a government building, little to no suspicion is required to conduct a search.    
"And that's also explained in the student handbook in the district's guidelines," said Rentschler. "It's the agreement you understand that, by attending the school, all of those school laws apply, just like you would for any other public school."

D303 takes measures of precaution through K-9 inspections to ensure student and staff safety during the school day.
"It personifies a good image for the police department and the school district and being proactive and trying to take as many steps as [the district] can to keep everybody safe," said Rentschler.