Quarantine Find: "The King of Staten Island" Movie Review
A conclusion I've come to after watching practically every Pete Davidson interview I can get my hands on is that he is an acquired taste. My first major introduction to Davidson was in the Netflix movie "Set It Up" where he plays Duncan, the main character's roommate. Although Duncan has very little dialogue, his character still sticks with me. I vividly remember a scene where Duncan throws his coffee at his roommate's scornful boss. Because of this, I was very excited to see Davidson take his much-deserved place in the limelight. 
"The King of Staten Island" was co-written by Davidson and serves as a semi-autobiographical tale of his life. Directed by Judd Apatow, the story follows Scott Carlin (Davidson), a 24-year-old high school dropout who still lives at home. His dad, Stan Carlin, was a firefighter who died in a building fire when Scott was only seven. Scott struggles with finding direction in his life, which is juxtaposed against his sister Claire (Maude Apatow) who is graduating high school and going off to college. His mom, Margie (Marisa Tomei), hasn't dated anyone since her husband passed away, but that all changes when Scott accidentally introduces his mom to Ray Bishop (Bill Burr). The two start dating, and Scott isn't supportive of their relationship, mostly because he finds out that Ray is also a firefighter. After a series of unfortunate events, Davidson is forced to bond with Ray. At its core, this is a film about an adult who starts the process of coming to terms with his dad's death through any means necessary. 
From here on, I will be mentioning spoilers, so if you are interested in watching, please go and do that and come back. 
Honestly, I didn't watch any of the trailers, so I had no idea what I was getting into when I clicked play, but I was very much pleasantly surprised. I only watched the movie because out of pure curiosity to see how much of Davidson's life would be in the film and because I am a massive fan of him. One of my favorite aspects of the movie was Davidson's acting because I felt the amount of passion he put into the role through my computer screen. Davidson is best when he is being himself. He is best when he is telling a joke about how Staten Island is best known for that garbage dump that could be seen from space. He is best when he is arguing with Ray's firefighter friends about the ethics of firefighters having families. He is best when he is reflecting on what he wants to do with his life. He is best when he is ranting about his medical issues and how they affect his life. He is best when he is himself. The soundtrack of the film is very excellent too. It adds a lot of nice atmosphere to the movie. I love that Scott's love interest, Kelsey (Bel Powley), has depth and isn't just treated as a thing Scott can use to arbitrarily further his characterization.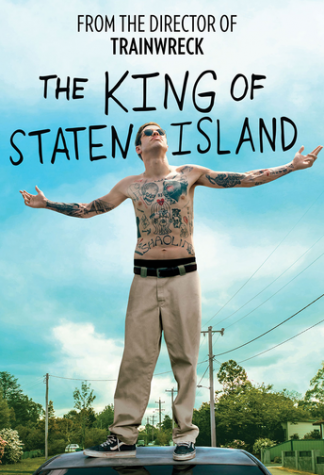 However, on that note, part of me wishes that he didn't have a love interest at all. I think it takes away from his process of self-actualization. The best example I have of this is the ending. I wish the movie concluded with Davidson going to the tattoo shop to get an apprenticeship, so he can follow through on his dream of opening the first restaurant where patrons can watch other people get tattoos. I feel like ending at the tattoo shop would have been such a natural end for his arc. Successfully getting the girl never really filled a void in his character whereas taking the first steps of being a successful tattoo artist does. I guess one could argue that going after Kelsey forced him to make a definitive decision about his future, but that same argument can be applied to going after his dream of being a tattoo artist. The theme of following your dreams and having ambition is a major one, so I don't like or understand the decision to put such a strong emphasis on his romantic relationship. I would've preferred that they put a heavier emphasis on his relationship with his friends as their subplot was basically dropped in favor of the romantic one, despite the friends getting more screentime. Another ending idea could be him going to jail with the money he earned from work to post bond for his friends, and even if he couldn't afford it, the movie could've ended on a joke. Despite these issues, I love the last shot. 
It ends with a low shot of Scott with New York City buildings in the background. It ends on a very positive and encouraging note. The actual filmmaking of the last shot is simply amazing. The low shot with Scott in frame with the NYC backdrop translates to, in cinematic language, the character gaining hope. 
This movie really made me think about what Pete would have done if he hadn't found his love in stand up comedy. Frankly, that was the only significant aspect of his life that was left out of the film; partly because he joined SNL at 20 and the film follows a 24-year-old Scott. 
I hope that Davidson works to develop a broader range in film, so that he can stray away from playing different versions of himself. "Big Time Adolescence," another movie starting Davidson, is very similar, yet both films are very, very good. It was just announced that Davidson would play Blackguard in "The Suicide Squad," so I look forward to seeing Davidson play a different role than what he is used to. Overall, this movie was an enjoyable experience. It was nothing groundbreaking, but it was a nice way to spend the night before the start of my senior year.