District 303 Approves Plan to Return Students to High School Buildings
Students Will Begin The Hybrid Schedule on Oct. 19
On Monday, Sept. 21, the District 303 Board of Education met to discuss the plan to return students to in-person learning, ultimately deciding to move forward with a full hybrid schedule starting on Oct. 19, the start of the second quarter. 
Starting Oct. 19, students will have to self-certify prior to entering the building, social distance even in class, wear a mask over their nose and mouth at all times, and they will be encouraged to wash their hands and use hand sanitizer. Along these same lines, students will not be allowed to use their lockers, congregate in the halls, and eat in non-designated food areas.
Principal Audra Christenson said that the aforementioned precautions are "similar if not identical to what is being implemented currently at the elementary and middle levels with success." They also based their health and safety mandates on the Illinois School Board of Education and Illinois Department of Public Health guidance.
The current block schedule format will be continued, but now class periods will be 70 minutes rather than 75. Mondays, however, will be a full remote day for all students, no matter what model they pick. On Mondays, from 7:20-2:30, students will have all eight classes, and classes will be 45 minutes with ten-minute passing periods. 
On weeks with less than five days, the Monday full day will be skipped. School will once again start at 7:20, and it will end at 12:15 with five-minute passing periods. Buses will run at 12:30, and to-go lunches will be available for pick up. 
The actual model in which students will be learning, deemed "the hybrid," will be focused on location and modality. In this model, some students will be in the classroom while others will be watching the lesson via Zoom, receiving instruction simultaneously.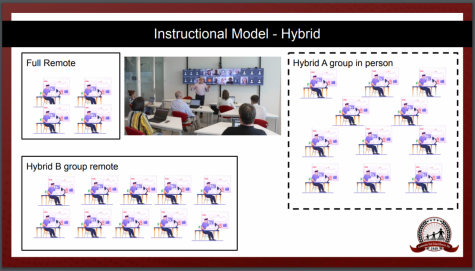 Families selected a remote or hybrid option in July, but they have the opportunity to switch models. To do this, another survey was sent out on Tuesday, Sept. 22. The questionnaire is due on Sept. 30, and non-responses will be called on Oct. 1 and 2. 
Teachers will be in the building with the students unless they have received ADA accommodations or FFCRA leave. If the teacher is one of the 10% at East and North working remotely, then the teacher will remotely instruct while a classroom assistant is in the room supervising the students. 
To prepare students for the hybrid model, there will be orientation days held on Oct. 15 and 16. 
Some present voiced concerns about this model. Joe Blomquist, St. Charles Education Association union president, summarized these concerns about the teacher's workload and ability to monitor in-person and live remote instruction simultaneously.
"If you are holding one ball and you're walking around, it's easy to take in everything around you. If you have three balls that you're juggling as you are walking around, you're not going to be able to survey everything else around you. You will be focusing on all three balls, kind of balancing them all up in the air," said Blomquist.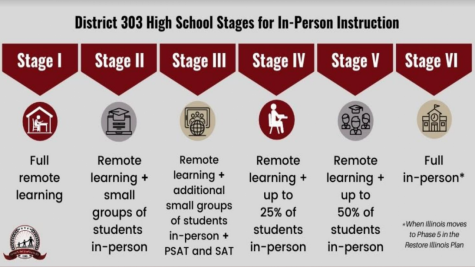 The three different balls he refers to are the three types of learning taking place: those who are fully remote, those in the classroom and those online for the day. 
Another concern is the introduction of new technology. For classroom use, the committee wants to purchase OWL devices, a $1,000 tool that follows teachers around the room, ensuring they are always on screen. The district also wants to purchase $500 whiteboard cameras. 
For the 215 classrooms, this comes out to approximately $322,500. This additional technology combined with the up to 30 new employees they want to hire to be classroom assistants means that the total district expenditures for the plan are $622,500.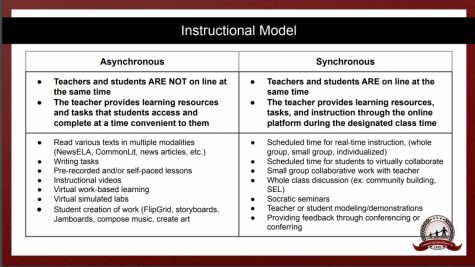 Teachers will have to learn how to use this technology. Because of that, there will be a remote learning planning day on Nov. 9 for PreK-12 teachers. Students will have an asynchronous school day. By then, the teachers should have the technology in their hands and be able to learn how to use it more effectively. The board cannot guarantee that the technology will be ready by the Oct. 19 return date. 
The plan itself was designed with input from 19 teachers and administrators from both St. Charles North and East. The plan centered around four commitments. According to the board's slideshow, the commitments are "health and safety of students and staff; bringing students into buildings for in-person learning; retaining full course offerings to students; retaining as much synchronous instructional time as possible."