Google Meet versus Zoom: Battle of the Platforms
Since the beginning of the 2020-21 school year, teachers and students alike have searched for the ideal application to hold classes. 
D303 signed a contract with Zoom, but due to a licensing issue, it wasn't ready for the first day of school, so teachers turned to Google Meet. As the quarter continued, however, Zoom became approved, and teachers were left with a choice. 
Although the platforms share significant overlap, there are some important distinctions between the two. 
For example, Zoom has a waiting room feature where the host, who is often the teacher, would have to let students in whereas Google Meet automatically does that.
Kristin Williams, English teacher, recognizes that the practical role of the waiting room is "to make sure that no one who's not supposed to be there jumps in," but "if somebody gets kicked out, occasionally I won't notice that they're asking to get back in. Because, you know, I've kind of moved into what I'm teaching, so it's easy to miss someone trying to get back in," she said.
Zoom also only allows accounts with a D303 email to join, another helpful security feature. 
"You don't necessarily have to worry about people just dropping into your Zoom because it has to be through the district account," said Anne McPeak, science teacher.
Additionally, Zoom opens a separate window on the computer whereas Google Meet runs in another tab. 
"I think Zoom is harder to use because you have to go into your browser tab and then pull it up," said Jocelyn Kane, sophomore. 
For both platforms, the chat is a shared feature, but Zoom has the option to privately chat with the host specifically, an option not found in Google Meet. 
This feature is especially useful during tests, because students can directly message their teacher, rather than having an entirely different Meet for questions, a common practice amongst teachers. However, due to the recent introduction of breakout rooms in Meet, teachers may now only need a separate breakout room, rather than a separate meet.
"With Google Meet, you have to have another separate meeting to ask questions to them, but with Zoom, you can just send a question right away," said Kane.
Zoom automatically saves the chat from the meeting as a text file, and for Williams, that makes attendance easier because she asks a question each class and based on whether or not they answered, marks their attendance. 
Gaining access to the call also looks different between platforms. Zoom is accessible through a link, while Meet can be accessed through a reusable code or link. 
The Google Meet link can also be attached to the Google Classroom banner, a helpful feature for both students and teachers. 
"I'll just click it at the beginning, and I don't have to deal with all the codes,"said Katlyn Nelsen, senior.
"I like just the ability that Google meet; we post everything to Google Classroom anyway. And the links right there, you just go. Where zoom is sort of this outside thing," said Brian Harks, physical education teacher.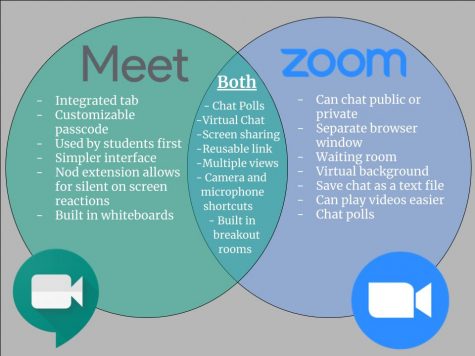 Screen-sharing also looks different on the platforms. Originally, on Google Meet, teachers couldn't see the conferencing screen. 
"When I shared a screen, I could never tell what was on there and it was always hard to navigate back and forth," said McPeak.
Video sharing on Google Meet would lead to audio issues, because if anyone left their audio on, it would create an echo, making it hard to hear the video.
A brand new feature introduced by Google Meet is the whiteboard.  This addition is in conjunction with Google Jamboards, a whiteboard site resembling a combination of Google Drawing and Google Slides. The Jamboard looks like slides, but is swiped through horizontally. It can also be easily scribbled on, like a Drawing.
Before, teachers could make Jamboards and share the link with students in the chat. Now, teachers can make it within the Meet, and it is automatically shared to the chat. Teachers can also pull up a previously made Jamboard within the Meet and the link is also automatically sent. The feature is not only limited to hosts, so students can also create and share Jamboards.
The Jamboard can be made a separate window or tab, and can also be pulled up partially on the screen, allowing for students to see the demonstration and students at the same time. 
One of the most important features introduced by Zoom and just added by Google Meet is the built-in breakout room feature. Breakouts rooms are separate smaller conference rooms that mimic table groups. These rooms are used by teachers for discussions, group projects, and encouraging students to interact with one another.
On Google Meet, breakout rooms used to be entirely different meets created through a separate extension. However, just this Friday, October 9, Google introduced built in breakouts rooms. 
On both platforms, teachers can assign students to rooms, and they are given a notification and option to join. Though the options are similar, there are some key differences.
First off, teachers using Google Meet can't send a message to all rooms at once. Messages still need to be sent individually, unlike Zoom.
Arguably one of the most important distinctions is the notification to return to the main group. On Zoom, a pop-up appears regardless of what tab the student is on. It alerts the student and gives them 60 seconds to return to the room. If not done manually, it automatically boots them back.
On Meet, there is still a notification to return, but it is entirely up to the students. If the breakout rooms are ended, the students don't get pushed back automatically but need to do so themselves.
The notification to return also only appears in the Google Meet tab, and doesn't show up if working on something else. It is also only visual, with no audible notification. This means that if students are on a different tab, and don't look at the Meet tab for a while, the breakout rooms could have ended a while ago, and they wouldn't have known, missing part of class. A possible solution is for teachers to audibly notify students to return.
This isn't to say that Zoom has no issues. 
"There's people who can't get in, and then there's the entire struggle of figuring out why they get in," said Kane. 
When teachers face connection issues, sometimes, they transfer back to Meet. 
"They're so similar now, it's worth it to know both and maybe just flip over to the other platform," said Matt Smith, Executive Director of Technology for D303.
Some of the difficulties on Zoom are simply because it was recently introduced, so "most of the complaints were just that it was a new platform to use and they didn't understand it," said Nelsen.
Despite all these helpful features, the main challenge for teachers when using these platforms has been knowing what it is like for students; Interfaces look different between hosts and students. 
"It's not like I can just walk over and be like 'show me your screen,'"said McPeak. 
A significant difficulty among students has been keeping track of all the platforms they are using, with some teachers switching platforms daily. 
"I feel like it will be easier if just all teachers use the same platform instead of trying to switch between Zoom, Schoology and Google Meet," said Kristine Puckett, senior.
But, at the end of the day, it's important that students and teachers communicate their needs to one another. 
"I don't have too much of a preference [of] one over the other. I would be curious to know what the students like more. I am indifferent. As an educator, I want to know what the students prefer and, if there's a format that is more conducive to what the virtual student needs, and…I'll adapt to whatever they want," said Harks.
Nevertheless, the past few months have been a learning process for everyone. 
"But now that we are helping to support parents, families, students through completely unknown setups, it's been a little challenging. But with that, we're learning a whole lot about how we're going to need to, you know, move forward from here, but for right now: keep on keeping on," said Smith.