St. Charles North Holding Virtual and In-Person Fall Fest
From Oct. 23 to the 31st, Student Council has organized various activities, both in-person and remote, for what would have been Homecoming week. These events will functionally serve as a temporary replacement for the usual fall Homecoming events. The calendar, along with links to pre-register are at this link.
Planning the Fall Fest has been a challenging feat for Student Council due to the unfamiliarity of the school year.
"It's very difficult to plan super far ahead of things because with COVID-19, it's very unpredictable," said Jess Winkates, student body president.
Similarly, getting approval by the administration has been especially difficult, because safety is the top priority.
"That's the thing that a lot of people seem to forget, is that this has to go through so many different levels in order to happen," said Winkates. Many of the events were planned much earlier, but the longest step in the process is getting permission.
Another difficulty has been getting the word to students. During a normal school year, announcements would be made regularly and posted throughout the building. As that is not an option, Student Council has relied more on technology.
"It's definitely been more of a challenge, but I'm really proud of how they've been trying to communicate [about the events]," said Winkates.
For the remote activities, there is the fall play,"Vintage Hitchcock: Live Radio Play," game night, and trivia teams madness. 
The in-person activities are the scarecrow competition, sidewalk chalking, and active fall activities on Halloween. The 31st will include a pumpkin decorating contest, Bob Ross art's alive outside, bingo and Kahoot live. 
In-person events will follow the same guidelines as in-person school: wearing masks, social distancing and regular disinfecting. There will only be 50 people allowed to participate per event to ensure safe distances are kept.
"We take sanitary conditions very seriously. We want to make sure everyone is safe for those who want to be involved," said Winkates.
Attendees need to pre-register by filling out a Google Form. Forms for in-person events close Friday, Oct. 23 at 1, and forms for remote events close Monday, Oct. 26.
"Information will be sent out to those who filled out the Google form," said Winkates.
None of the events require a fee to attend other than the fall play. However, some in-person events do require that materials are brought. All in-person events will be held outside, unless there is poor weather, in which case events will move to a secondary location in the school building.
At $7 per ticket, the fall play this year is a live radio play with the telling of Alfred Hitchcock's stories. It is at 7:30 pm, available Friday, Oct. 23, and Saturday, Oct. 24. 
"You have to buy tickets in order to get the Zoom link to attend the show," said Adriana Petrucci, student council Vice President.
To further advance the Homecoming spirit, the week of October 26-30 is a spirit week for students to dress up.
On Monday, it will be class color day. There will also be an in-person Scarecrow Competition. People can register individually or as groups. Those wishing to attend should bring their own scarecrow building materials. 
"That's a very fun activity that resembles what the Homecoming Spirit was about," said Winkates.
Tuesday, which is tie dye day,  will have a remote Game Night. The available games are Pictionary, a virtual Escape Room and Among Us. People can sign up as a team, or teams will be assigned as necessary. Links will be sent to those registered the night of the event. 
"We really wanted to create not only engaging in-person events, but also engaging remote events because we didn't want anyone to feel left out," said Winkates.
Wednesday is sports apparel day, and it will feature an in-person sidewalk chalking at North. Students can bring their own chalk, or purchase primary-colored chalks at North. Designs should be approved before being drawn. Masks need to be worn the whole time. 
"We ask you to bring your own chalk, just out of safety, but if not, you can buy them. We'll have those available," said Petrucci.
Students can go as individuals, partners, or in groups. However, only two students can work on a square at a time to maintain social distancing. On the form, students can also choose who they would like to be assigned close to. Groups can come as friends, clubs, teams or organizations, but a D303 adult needs to be present, such as  a coach or adviser. 
Thursday will have Trivia Teams Madness, a remote trivia contest. It is also dorm/PJ day. Trivia teams consist of 5-6 people, and can choose their own school-appropriate team name. Students not on a full team can be paired up with others if they would like.
"We have a variety of different topics that people can be excited about," said Winkates.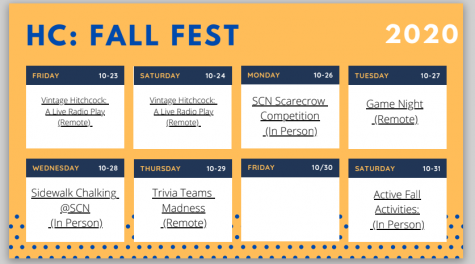 On Friday, the day before Halloween, students should wear their costume. 
Halloween will have many different in-person events for Active Fall Activities. There is a pumpkin decorating contest, Bob Ross art's alive outside, bingo, and Kahoot live. All events on this day are in-person.
For the Pumpkin Decorating contest, students will need to bring their own pumpkin and materials. Students can paint or carve, but saws, electric tools and sharp objects longer than two inches can't be used to carve. Groups can sign up, but there can only be one member working per pumpkin. 
"We are not promoting it as much as a competition, like Homecoming usually is. We are promoting it more as just coming together as a community after being apart for so long," said Winkates.
Bob Ross Art's alive outside is a painting course where students are instructed how to paint a subject, and can put their own spin on the canvas. Canvas and paint are provided, but brushes should be brought, or can be purchased.
There is also in-person bingo. All supplies will be provided and disinfected, and there will be no sharing for safety. Prizes will be available.
The last event is a Kahoot live. A large game of Kahoot will be projected onto a big screen, and students will log in through their own devices.
Many clubs are planning to attend the events.
"I know that Team Polaris is trying to get involved. I know Hope Club is really excited for the sidewalk chalking. Of course, Student Council will definitely be participating," said Petrucci.
Fall Fest this year is all about being together as a student body, instead of promoting the usual competition of Homecoming. Student Council is encouraging the school to come together.
"We are focusing more on being united against all these restrictions and just coming together as a community," said Winkates.
Fall Fest is not meant to be Homecoming but serve as a temporary replacement until a full Homecoming is possible.
"Right now we are just doing this as a temporary social event. We wanted to plan something," said Petrucci.
Until then, check out Fall Fest for some seasonal activities which help reconnect students and increase school spirit.
"I'm just very happy that we were able to plan this event. Student Council was very nervous that we wouldn't be able to have anything, so just being able to have this community event has been wonderful," said Winkates.