The D303 COVID-19 Threshold Question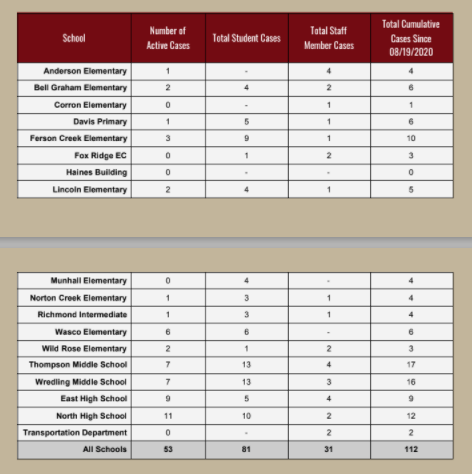 District 303 has over 8,500 students attending in-person school, while over 3,000 students are fully remote. So far, COVID-19 numbers have been low in schools, but the question remains: is there a threshold for the number of cases to make a school shut down?
The answer is no. District 303 does not have a set number of cases that will make them move a school to a remote setting. Instead, they are working on a case-by-case basis. The district has been working with the Kane County Health Department to contact trace cases and to limit the spread in a school building.
According to D303 Director of Communications and Community Relations Carol Smith, "The cases that we have seen everywhere in the school district have been through community transmission, which means that the students or the staff members have gotten it somewhere else. They haven't gotten it at the school, which means that the numbers aren't really much bigger than the community is seeing as a whole."
District 303 is working to not have to shut down an entire school. 
"If you have five or six kids in a classroom that are sick, then we may quarantine that entire classroom. Or let's say that those seven students have spread it to other classrooms. We may have to quarantine three or four classrooms depending on where those students have moved throughout the day," said Smith.
However, if there were such a high number of cases in a school where it would be unsafe for students to continue to go in person, the district would move the school to remote learning. Although District 303 is looking to not let that happen, they have prepared teachers for the possibility of  having to go remote.
"I think that we would work with the health department to see if we had to shut down a school completely and then we would be able to because we have prepared for it and we have teachers that are teaching remotely and in-person, we would be able to move between those different modalities," said Smith.
While parents are notified when an individual is their child's school contracts COVID-19, they are not made aware if the individual is in their child's class. These measures are put in place to protect the privacy of all individuals. 
"We send letters out to the schools that say an individual associated with the school [has COVID-19]. Parents are notified if their child had close contact with the person who was identified, and that's because we want to protect the identity of the people who are ill," said Smith.
According to the COVID-19 Case Dashboard, there are currently nine student cases and two staff cases at St. Charles North High School, with ten of the eleven being active cases. All of these cases were reported from Orientation Days on Oct. 15 and 16 onward.