Girls Swim And Dive Wins Sectionals To Cap Off Successful Season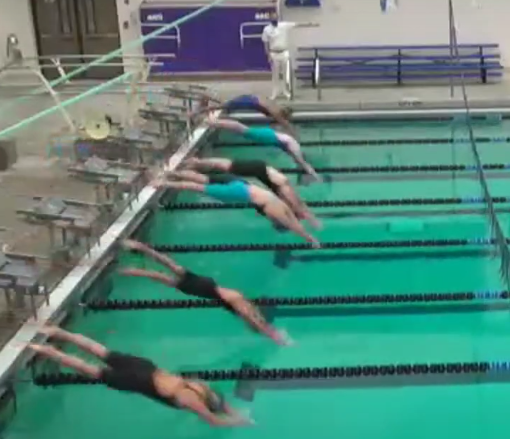 On Saturday, Oct. 24, girls swim and dive won sectionals. Many girls were able to place and get state-qualifying times.
However, due to IHSA regulations, the state-level competitions have been canceled and they can't move on, ending the season early. At the beginning of the year, the athletes were unsure if there was even going to be a season due to pandemic-related complications.
"I think we found out two days before the season that we were going to have one," said Payton Baxter, senior and sectionals swimmer.
The restrictions made the competition look very different for the competitors and spectators. 
One big change has been the banning of audiences during the meet. During a typical season, the bleachers would be packed with supporters cheering on the swimmers, but this year, they're empty.
"There's [normally] a huge section of blue in the stands at North every single year," said Baxter.
Not only were cheers different on the bleachers, but teammates also had more difficulty finding ways to cheer each other on.
"Normally, at the meet, we are all sitting on deck, and we can do our cheers, and we're all packed together," said Julia Fifer, junior and sectionals swimmer.
Despite the absence of a crowd, the team was still able to find ways to support their fellow swimmers in COVID-safe ways.
"We did walkouts, so all of the North girls picked a song to walkout to and they played before the races so it was really fun," said Fifer.
Another big change was the number of swimmers on the pool deck. To prevent crowding and allow for proper social distancing, only 15 people from each team were allowed at a time.
"There were only 30 people on deck rather than about 90 at a regular dual meet," said Baxter.
Teams were instead placed into separate rooms, like the gyms and team room, and a live stream was put in the room so athletes could still watch the events.
"Our maintenance crew did a wonderful job of helping us out," said Rob Rooney, girls swim and dive coach.
The lack of people in the stands and on deck greatly changes the atmosphere of the competition; this shift can have an impact on the nerves and performance of the athletes.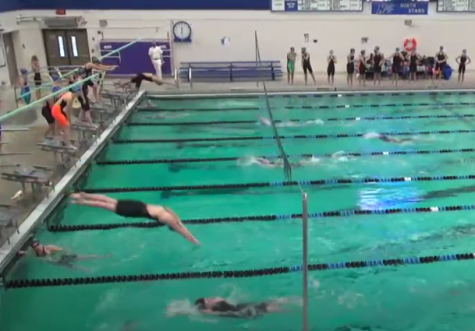 "People kind of get scared with everyone being there and everything, so I think it kind of took some pain away from that," said Baxter.
The perseverance and patience of the North Star athletes landed them in first place, even with the less-than-ideal circumstances. 
"They showed resilience. They wanted to race and they raced really, really well," said Rooney.
This meet marked the end of the season, with state being canceled due to COVID-19, preventing state-bound athletes from competing at a higher level.
"It's pretty upsetting that we don't get to go to state just because I know one of my goals this year before I knew COVID-19 to happen was to get top three or end up finaling," said Baxter.
This also marks the end of high school swim for senior swimmers, bringing an unpredictable close to their high school swim career.
"It hasn't hit me yet that I'm a senior, and I never get to swim probably in that pool again," said Baxter.
Despite the ending, seniors are still grateful for the time they were able to spend with the team.
"My four years at North, especially as an athlete, have shaped me into who I am," said Baxter.