Two Editors Share The Details of Their First Voting Experience
Editor-in-Chief Caroline Look Voted In Person, and Entertainment Editor Paige Maki Voted By Mail.
According to Tuft University's Center for Information and Research on Civic Learning and Engagement, "close to 10 million [votes were cast] from young people ages 18-29." 
And, we were two of those 10 million votes. We were lucky enough to turn 18 before the 2020 presidential election, so we cast our ballots along with millions of other Americans for the first time. 
Caroline's Voting Experience:
A week ago today, I went to vote in my first presidential election which also happened to be my 18th birthday. My mom and I decided that the Kane County Courthouse was the easiest polling place. When we pulled up, there was a line extending outside to the sidewalk. 
Ultimately, I waited an hour to vote. The longest wait was outside, but once I got inside the line started moving quicker. 
Once I got inside the building, however, I had an unpleasant encounter.
Before entering the building, every voter had to stand in front of a heat sensor which scanned to ensure no one had a fever. After doing so, the voter would step to the side and proceed to wait in another line.
Once a few people had been scanned, the heat sensing machine and I were on opposite sides of the room, and the man behind me was directly in front of it. Because of this, the man caused the reading to be messed up, so in order to not disrupt the scanning process, the police officer told him to step out of the line of sight of the machine which meant he stepped closer to me.
The man apparently had an issue with the machine prior to this, so he made some joke about how the machine didn't like him. 
Then, the police officer laughed and pointed at me and said, "Well, that young lady sure does!" Every man in the vicinity laughed, but I just glared. 
I think this interaction really illustrates my overall thoughts on voting: it was very uncomfortable. While voting, I was one of few young people which made for an uneasy hour. 
This wasn't my first experience with voting, however. I went on March 17, the date of the primary, to get registered. I was able to vote then because, in the state of Illinois, those who are 18 by the general election can vote in the primary.
The place I went to register also allowed me to vote. This initial experience and the one I had a week ago differed greatly–mostly in the atmosphere of the voting place. 
My initial location was mostly empty and very quiet, so quiet, in fact, that I felt that if I talked I would get kicked out. I was able to register and vote in the same place, a process that only took about 30 minutes. Compare this to my very noisy and packed polling place for the presidential election. It took me an hour to simply cast a ballot. 
This election helped me take control. In 2016, when I was in eighth grade, I felt utterly helpless watching the world dive into chaos. Now, this year, I anticipated my ability to take back power. 
But the uncertainty of the polls and president has caused me to feel a sense of powerlessness once more.
I look forward to voting in the midterms and in every election after that. Hopefully for those, however, we'll be able to name a winner more quickly.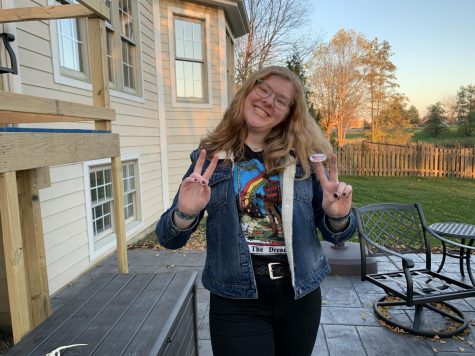 Paige's Voting Experience:
Voting for the first time in a presidential election during a pandemic was a very interesting experience. My first official time voting, however, was in the primaries. My trip to the polls to vote was also my very last outing before quarantine began. It was during the phase when everyone was panic-buying toilet paper and no one knew to wear masks yet. It's safe to say my first time voting was a stressful experience.
After my experience voting in the primaries, I debated for quite some time whether to vote in person or by mail for the presidential election. It was a hard decision, but I ultimately decided to vote by mail. 
I made the decision to vote by mail after finding out that my polling place had a dropbox. This made the process very easy for me because I didn't have to worry about my ballot going through the mail, even though that isn't a very valid concern. I also discovered that Kane County allows you to track your ballot and notifies you when it's received, which was very helpful and eased any stress I had about voting by mail. 
The drop boxes and the ability to track my ballot made me very comfortable with my decision to vote by mail and they helped the process go smoothly for me.
As a new voter, there were challenges that came with voting in person and by mail. Voting in person for the first time during the primaries was a little confusing for me because I wasn't used to the machine, so I had to learn how to use the machine while trying to cast my first ballot.
The problem with voting by mail is you have to be really on top of things to make sure you request your ballot on time, meet all the requirements so it will get counted, and get it turned in on time. I was also very lucky to have other family members decide to vote by mail which helped me stay ahead of the game.  
2020 was a very interesting first election experience for me as well because Biden's and Trump's platforms are polar opposite. While neither candidate was my first choice, I was still confident with the candidate I decided to vote for. Considering the candidates are drastically different, I didn't have any trouble whatsoever choosing my candidate. 
Overall, the 2020 election is very important to me because it has the potential to serve as a great turning point in environmental health, public health and general progress in our country, and I am proud that I got the opportunity to vote for the change I wish to see in the world.
Our final thoughts:
Overall, we feel really lucky that we had the opportunity to vote in an election while we are still in high school. Voting in your first election brings quite a few challenges as you have to go through the process of registering, deciding which voting method to use, find your polling place, and choosing who to vote for–all for the first time. 2020 was definitely an interesting year to be first-time voters.
However, despite the challenges that come with voting for the first time, we are grateful we had the opportunity to vote in this election and look forward to voting again in the future.