North Launches Two New Pilot Clubs
Fashion Club 
Two years ago, Fashion Club was only an idea that current senior Claire Lucas had, and this year, that club has finally become a reality.
The process Lucas went through to start this club was not without challenges. 
"I tried to start it, and then it got shut down, and then COVID happened. And then I tried to start it again," said Lucas, Fashion Club co-president.  
Lucas stressed her desire for there to be a community at North solely dedicated to fashion and also to breaking stereotypes associated with it. 
"When we were in the interview process of getting the club to become something, I said that breaking the stigma of men in fashion was a big mission for our club," said Lucas. 
Lucas recruited friends also interested in fashion to help lead the club: co-president Katie Tran, junior; treasurer Bella Villalon, junior and PR manager Rylee Bichel, junior. 
The club meets every other Monday at 2:30 in room 404, and activities at the meetings vary. 
"We do different things every time. Usually the four of us will meet the weekend before and we'll plan what activities we're gonna do," said Tran. "For Valentine's Day, it was Valentine's Day themed so we painted tote bags for Valentine's Day and then we also made some tote bag charms." 
Fashion Club has many plans for the future of the club. 
"One of my big things that I want to do is something with Hunter Petersen, with the whole photography thing; having the people in the club create actual looks because we haven't done much showing yet," said Lucas. 
They also want to take a more active role in the school and community in the future, with projects such as a clothing drive or a thrift-store field trip with club members. 
"Now that we're trying to get past the whole pandemic thing, it's time to get involved in the community again," said Kandace Brink, Fashion Club adviser. 
"I think people have been delivering really good stuff, and then when we put it out there…it really grabs people's attention, just because of how creative some people who have joined are," said Lucas. "And I think that the more people that get to join, the more creativity we'll see." 
Science Olympiad 
Ever since being on the Wredling Science Olympiad team, sophomore Katya Kadyschuk has always wished that there were a St. Charles North chapter of the organization. 
"I heard that East had a team, but we didn't, so I've been trying to start a team up since freshman year, and I finally got the ball rolling," said Kadyschuk.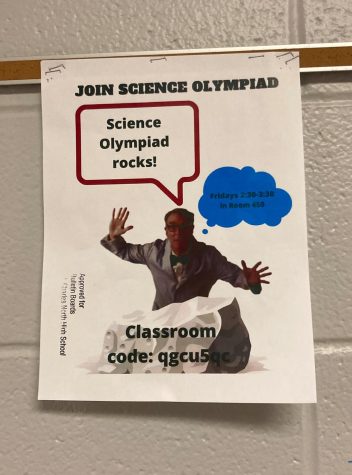 Kadyschuk worked with science teacher Stephen Macaitis to get the club approved for North. However, by the time that the club was approved, competition season had already passed. Currently, the club is working on preparing for next year's competition season. 
"We've been trying out different Science Olympiad events that we would compete in and seeing how those go," said Kadyschuk. "We've just been doing science-related activities, like some cool explosions." 
The club would compete in teams of two for various events at science competitions with other high schools. The events that the club can compete in relate to various scientific concepts and skills. 
"[For] build events or experiment events, you'd build a machine ahead of time and show the judges…or complete an experiment, and that would be judged for points," said Kadyschuk. 
The competitions also involve test events, where participants learn about a specific topic and then go in and take a test over it. Each school's Science Olympiad team is then judged based on all of the events, which determines the school's placement. 
Science Olympiad meets every Friday from 2:30 to 3:30 in room 450. 
"[We do] something fun every week. Right now we're trying to maybe get a fundraiser going to raise money to be able to have the mock [competition season]," said Kadyschuk.