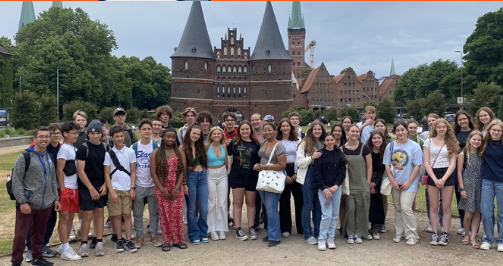 Exchange students from Sankt Ansgar Schule in Hamburg, Germany were welcomed by their North host families this past week as part of the German American Partnership Program, or GAPP. 
GAPP is a program designed for American students enrolled in German classes and German students enrolled in English classes to visit one another's schools, immerse themselves in their unique cultural environments and gain real experience with their learning of foreign languages. Between East and North, there are currently 21 exchange students visiting D303 from Germany.
"It's a really good cultural exchange that allows [students] to learn about each other's culture while studying the language as well," said Brian Maloney, German teacher at North. 
North's German classes originally opted to be a part of GAPP in 2011 when Sankt Ansgar was in need of a new partnership school. 
The GAPP program entails a 3 week visit to their exchange schools, where students attend classes alongside their host student and sightsee in different areas around the country. 
Last June, German students from North went overseas and lived with their German host families, attending school and sightseeing in different locations around Germany. 
"They follow their student around during their school day and then we have different excursions like field trips and things like that," said Maloney. 
The exchange students are currently in the middle of their visit. They have been attending North classes with their host student and sightseeing in local areas, including Chicago. 
Not only do traveling students visit their exchange schools and local areas around them, but they also visit other parts of the country. Over the summer, North students explored Munich, Germany, and the German exchange students are planning to visit New York City after their time at North. 
For many of the visiting German students, attending school in the United States is a polar opposite experience from their typical day-to-day lifestyle both socially and academically. 
One noticeable difference between the two schools for the exchange students is the way classes are structured. For the German exchange students, at home they follow more of a block schedule, where students don't attend the exact same classes every day, much unlike North.
"You have the same schedule every day, and you're taking every single class every day again and again, that's boring to be honest," said Deniz Girgin, sophomore German exchange student. 
Another difference between the two schools is the significant extracurricular environment. An abundance of clubs, sports and activities are made available to North students all the time, whereas students in Germany go to school to focus purely on academics.
"We just go to school," said Girgin. "If we want to go to clubs and stuff like that, we just go to other clubs outside of school."
The German exchange students and North host students alike have enjoyed having the opportunity to connect with somebody from a completely different culture who they otherwise never would've known. One particular pair, North senior Hayden Techter and his freshman exchange student, James Kopp, have grown close during their time together. 
"It's kind of like living with a little brother because I've shuttled him to and from school and all the GAPP events," said Techter. "It's really fun, there's nothing I don't like about it."
Being a part of the GAPP program is a valuable opportunity for students studying a foreign language because it not only allows them to gain experience in the language they're studying, but helps them to further their understanding of other cultures and the world around them. 
"I think it's important to know different cultures, not only European, but also from another continent, and to see what the difference is in the school systems," said Kopp.