St. Charles North Autos Program Fixes Community Cars
North's auto students work on the cars of other students, teachers and community members to gain experience. Autos classes and Auto Club provide a way for students to learn how to work on cars and also gain hands-on experience.
There are three autos classes offered at North as well as the Auto Club. Autos I teaches basic maintenance such as dealing with tires, changing fluids, using shop equipment and general safety. Autos II deals with more advanced maintenance such as fixing breaks, steering, suspension and alignment. Autos III goes into even more depth on aspects such as diagnosis, electrical and computer systems. Auto Club works on various projects dealing with car maintenance. 
"Auto Club is all hands-on, and we tend to do projects that might take a little more time," said Steven Pravica, autos classes teacher and adviser for Auto Club. 
Members of Auto Club and the autos classes often perform maintenance on the cars of teachers and community members to give the students hands-on experience. Common repairs include oil changes, tire changes and rebalances. For longer projects, an autos Class may start work on the car and the Auto Club will finish it.
"We work on teachers' cars. We work on our own," said Avery Moore, senior, an Auto Club member and a student in Autos III. "Just go up to [Pravica] and say what you need done and we'll get it done."
Community members who are interested in getting a car worked on by North's Autos department often reach out to Pravica or students they know in the program. 
"We'll have people that will email me from the community and we'll set them up with an appointment during Auto Club or sometimes even during classes," said Pravica. "Sometimes students will have a neighbor that has a problem, or a friend that's not in the club, so we'll help them out."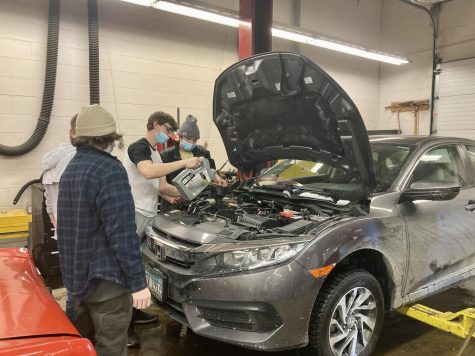 Getting work done on a car through Auto Club or an autos class can be much cheaper than going to a dealership, but people should be careful when deciding where to bring their vehicles in for maintenance.
"If you get any work done anywhere other than a dealership, your warranty is not really there anymore, so make sure it's a car that doesn't have a warranty anymore or you just don't care," said Moore.
The students in the autos classes and Auto Club benefit from experience gained from working on different cars. The skills they learn allow them to further their knowledge in mechanics and cars and open up the doors for future opportunities.
"You get a lot of experience in the shop working on cars, and you can also do your ASE certifications," said Raffaele Pelagio, senior, an Auto Club member and student in Autos II.
An Automotive Service Excellence certification, or ASE, allows someone to work in different fields of auto maintenance professionally. Some students get their ASE certifications using their comprehension of vehicles learned from involvement in autos classes and Auto Club. 
"It is a great skill to have, to know about cars even if you're not going into the specific mechanics field. It is a great trait to learn for the rest of your life, really," said Pelagio.
Auto Club meets once or twice a month in room 417. There is a meeting on the first Thursday of every month and another meeting on a day decided by the members.Those interested in joining Auto Club can email Pravica for additional information.