Tri-M Decorates Hall With History-Based Wall Decal
Over the past summer, a new wall decal was added to the hall leading to the music wing and auditorium. This new wall decal depicts the history of music, from the earliest examples in ancient times to the present day. 
Added over the summer to liven up the corridor, the plans for the timeline were proposed by a group of students and extensively reviewed by Tri-M, the National Music Honor Society.
"The walls were a little barren, a little sterile," said Tri-M advisor Andrew Masters, when asked about the wall's inception. "We were talking with Tri-M on how can we inspire the other students and staff in North, and it was one way to show not only what we do down here, but just how living and active music is to our society."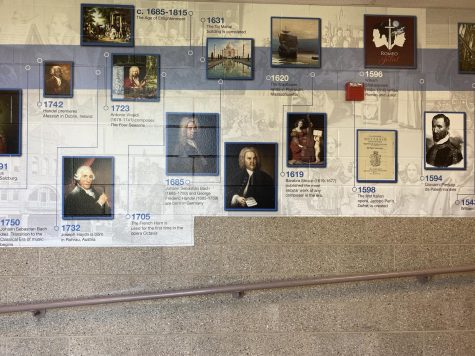 The timeline's development was driven by students. 
"The selection process was a group of us researching these various different eras of music," said junior Derek Hibben, one of the students involved in the selection process. "And we compiled it all into a document and most of it was put down."
"That was a long-term collaboration with members of Tri-M," said Masters on its development. "We spent a good portion of the year [having] students doing research on their own, and got ideas down on paper, and there were a couple different committees that pared down what are the most lasting events and people and pieces of music we want to put on this wall. It was the students who came up with all the ideas for the wall."
Diversity was also quite important during the selection process. 
"We did our best to put in women and minorities, but finding any marginalized artists was very difficult before about the 20th century," said Hibben. "All in all though, I think we did pretty well encompassing as much as we could."
Ultimately, the timeline's primary goal was to show the effect of music on history.