North's Scholastic Bowl Team Looks to Recruit More Members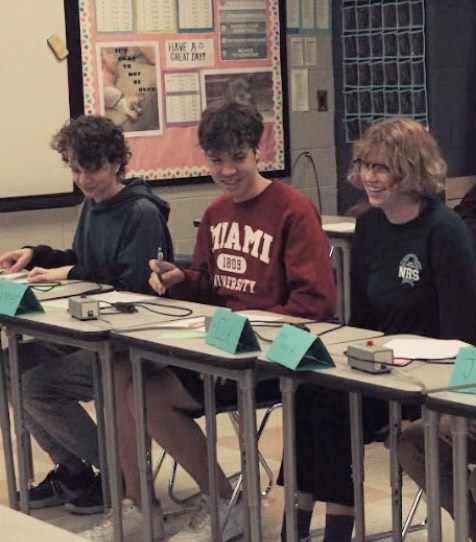 Students lean forward in anticipation, red buzzers clenched in hand. Everyone tensely waits as the question is gradually read out. Then bam! The lights all turn green after someone pushes their button and announces the answer. That is what happens countless times during Scholastic Bowl meetings. North's Scholastic Bowl team practices together in order to answer a variety of trivia questions every Tuesday from 2:30 p.m. to 3:30 p.m. in room 234. With buzzers, they train for five-on-five competitions against other schools.
"Scholastic Bowl in a couple words is fun, nerdy, competitive," said Katie Dickson, Scholastic Bowl coach. "Basically, you compete academically with another team. And it's all about random trivia. So it could be in the category of social studies (my favorite), math, science, fine arts, literature, but it also could be things like current events or sports or miscellaneous."
During the weekly meetings, the club goes over sets of questions and information used at previous competitions going as far back as 15 years.
"The companies that write the questions for competitions provide what we call lists. They're basically sets of information about…anything from jazz musicians, to NBA basketball teams, to different moments in history to different science types of techniques," said Jim Lotarski, Scholastic Bowl coach.
During a typical competition, there are 22 toss-up questions that are individually based but also bonus questions that can be answered if the team correctly gets the other questions right. When someone on the team wants to respond to a question, they push their buzzer as soon as possible since the first correct answer gets the point. Due to the wide variety of topics, members of the team are often using information they learned in their classes and in practices to answer questions.
"I really like when someone answers a question of something they just learned, because they're super excited about it," said Ella Roth, senior Scholastic Bowl captain. "And you can see how excited people get when they're talking or answering a question about something that they really, really like."
A lot of the time, members of the team are specialized in certain topics. While they'll also answer other questions, they often will be especially ready when something they know a lot about is brought up.
"There's a lot of subjects and it's important to know that not everyone is an expert on all the subjects. So even though I, for example, [pay attention to] all the questions, it is very unlikely that I will be able to buzz in on, like, a literature question," said Roth.
After the COVID-19 pandemic, Scholastic Bowl has been seeing higher attendance than before and hopes to take on more members. Lately, they've been trying to get new members from any grade level to come and check out the club to see if they're interested.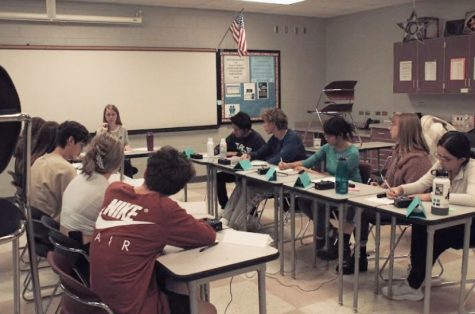 "Coach Lotarski has been diligently working to recruit for Scholastic Bowl, but we're always looking for upperclassmen, and especially underclassmen to continue the program going forward," said Dickson.
If someone wants to see how Scholastic Bowl works, they could show up to even just a singular meeting and there won't be any judgment from the coaches or members if it doesn't fit them. However, the club is always welcoming of new people who want to join.
"So if anybody just wants to see how it works, they're welcome to stick around and nobody's going to make them feel guilty if it's just not for them," said Lotarski. "We have, I think, a really good group of people that really enjoy each other's company and enjoy sort of the fun and the challenge of just doing this trivia."