The Hoops for Homes Basketball Game Fundraises for Larazus House
On Friday, April 14, Key Club will be holding the Hoops for Homes event from 6-8 p.m. in North's main gym. Hoops for Homes is a student-vs.-faculty basketball game fundraiser to raise money for Lazarus House.
The event will include the  basketball game, a three-point contest and other various games and raffles. 
In the past, this event has been held under the name "Luau Madness." However, it has been over ten years since the last one was held. 
 "[We're] bringing it back this year, and renaming it and making it our own event," said senior Kara Claussner, Key Club editor/publicist.
Students will be able to see teachers and students play against each other in a basketball game. The faculty team will be made up of staff volunteers, and the student team will be made up of North varsity basketball players, both boys and girls. Students and faculty can support their teams by following the student and staff themes. Students will have a blue-out theme, and staff will have a black-out theme. 
"This is going to be fun, lots of silly nonsense and seeing your teachers doing silly things," said Kathleen Donahue, Key Club adviser.
At halftime there will be a three-point contest. The first 15 people to sign up upon arrival at the event will participate. If someone wishes to participate in this contest, Key Club recommends you arrive early, with the doors opening at 5:30 and the event starting at 6.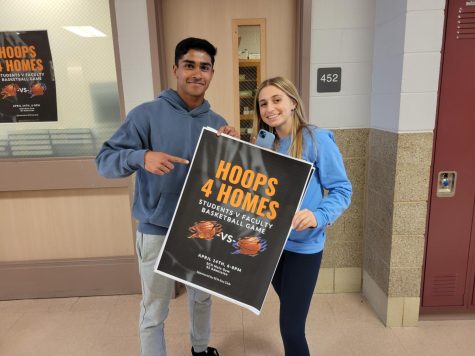 There will be multiple raffle prizes. With a payment of $5 for admission, spectators will receive a complimentary raffle ticket, and can purchase additional tickets for $1 each. These tickets can be placed in any raffle for a chance to win one of the various raffle baskets. 
According to the Hoops for Homes website, these baskets are, "[…] Graham's Fine Chocolates & Ice Cream gift basket, Kane County Cougars Tickets, Color Me Mine gift cards and an SCN Spirit Pack." There will also be a game after one of the quarters for the opportunity to win a gift card from a local business. 
All the money raised at the event will go directly to Lazarus House, an organization that provides shelter, food and other support for people who are homeless or at risk of homelessness in St. Charles. 
 "We're going to send [the money] to Lazarus House. That's why we call it Hoops for Homes. And that's one of the jobs or goals/commitments of Key Club and Kiwanis international […] is to help the children of the community," said Donahue.
Hoops for Homes will be a great opportunity to support the community and have a great time. 
"Whether you're a faculty member or student, we'd love to have everyone come," said Claussner.