Two Friends Win Tennis Sectionals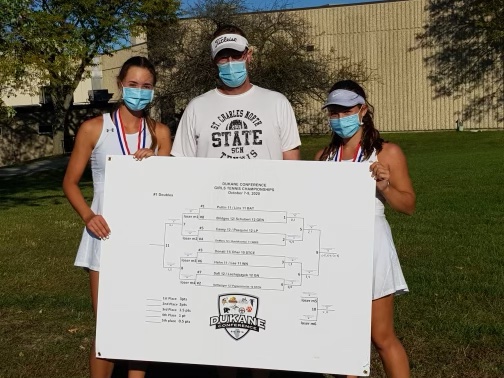 Seniors Leia Papanicholas and Tatum Settelmyer met in their sophomore year chemistry class. The two had played tennis the year before, but because they were on different teams–Papanicholas on Varsity and Settelmyer on JV–they did not talk that much. However, that year, they were both put on Varsity.
Settelmyer said the two started talking more sophomore year and became friends, "and I guess that's when our friendship off the team also started. I'd say junior year, we got super close."
  This season, coach Sean Masoncup paired them together as doubles partners, and they won Sectionals, 6-0 and 6-3. 
North won the Sectional in doubles, a feat which hasn't been accomplished since 2005 which, to Masoncup, "says a lot about how talented they are and how hard they worked. Their work ethic was phenomenal this year–all of the girls' were–but those two especially really had a magical season, a special season. It was an absolute blast to coach them."
On Oct. 17, Papanicholas and Settelmyer beat St. Charles East, becoming Sectional champs. Shortly after, the two were named all-state athletes by ISHA. This is the first time, since 2018, a North doubles girl team has done this.
Masoncup said Papanicholas, who was co-captain this year, was very consistent. Over her four years of varsity tennis, "she won over 70 matches for us, so she has been able to grind out matches and be able to execute what she needs to execute. She's got a big serve and has great groundstrokes and is great at the net," said Masoncup.
Masoncup said Settelmyer is a winner because "everything she does, she wins at." He also said she's a hard worker and "extremely coachable." He continued, "in terms of skills, she's extremely aggressive at the net, and being as tall as she is, she has unbelievable hands at the net and has a great serve."
Papanicholas' main sport is tennis while Settelmyer plays both tennis and basketball; however, both have been playing tennis since they were young. Settelmyer has been playing since she was 5, and Papanicholas said she has been playing tennis "ever since [she] can remember."
Their athleticism and friendship made them "a great pair together, being [that] they complemented each other's games well. Leia has a great serve, and Tatum is great at the net, so that allowed us to take advantage of that type of stuff and they both are very consistent," said Masoncup. "Also, I knew that they're pretty close in terms of friendship and I knew that when things got tough, their friendship could be able to help them through the tough matches, which it did this year."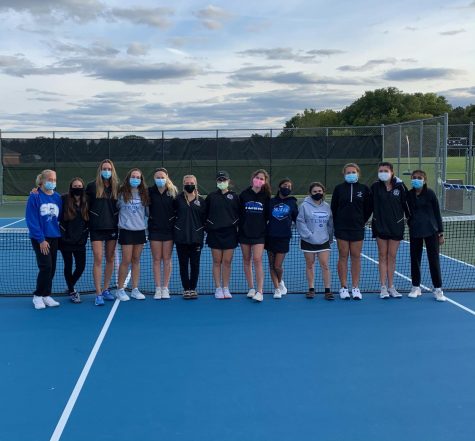 During a typical year, this victory would have meant that the two would have advanced to state. However, because of the IHSA rules surrounding the coronavirus, no state competition will be held. These rules also meant that their parents couldn't be there to witness their win because no spectators were allowed in.
Papanicholas is "really upset about it because I've always wanted to go to state, but I felt that [the season] ended on a good note this year, so I'm not too bummed about it, but I really wanted to go."
Although Settelmyer wanted Papanicholas and her to experience state for the first time, she is thankful that she and Papanicholas had a season in the first place.
"Honestly, I'm not like totally bummed about [not having a state tournament] because like we had a pretty long season to begin with, compared to other sports that couldn't play at all. So, I think we were just thankful to even have that," said Settelmyer. 
Papanicholas said that Settelmyer and she "were just a really strong team" because they "connected really well on court."
Settelmyer said that they "are super proud of ourselves, I think, and just the way we carried throughout the season to just improve so much that we could actually win a Sectional title."
Masoncup agreed. 
"There's not many better feelings in the world than seeing two girls be successful doing what they love to do and playing with their friends." 
Because the girls' families couldn't be there, Masoncup was the only one to witness the victory. 
"I will always have that memory etched into my head watching them win that last point."